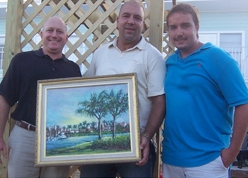 VERO BEACH — Adamark Properties, a Real Estate Investment and Development Firm with principals Adam Preuss and Mark Titone, with assistance from Events by Barnett, hosted a grand opening at their new building located at 1825 14th Ave., in the downtown section of Vero Beach.
Preuss is the owner of Preuss Appraisal Services in Sebastian and Titone specializes in acquiring distressed properties.
Both are very excited about this acquisition, a historic building on the cusp of a vibrant and growing artist community.
Attendees included many community leaders, business professionals, and residents. Funds were raised to benefit The Source, a Christian Outreach ministry that aids the homeless and underprivileged.
Locally contributed items were raffled including gift certificates as well as artwork from neighboring galleries.
Barry Shapiro of Lighthouse Art and Framing donated some interesting pieces. The showcase prize was an original painting by Lee. G Smith, a beautiful rendering of the Grand Harbor Marina. Dawn and Lee Orre, of Tropical Art and Framing, provided this piece.
Neighboring restaurateurs, including Gerardo and Karen Fulchini of Baci Trattoria donated light fare including gourmet cupcakes. The artistic flair that pervades this community is also present in the food of these restaurants.
Fourteen-year-old Donny Haight was a sensation, providing a medley of originals, classic rock and folk music that captivated the crowd. This young artist is truly beyond his years with an impressive range and repertoire.
The once dated mauve and brown structure at 1825 14th Avenue is now a vibrant sea foam color accented by satin white. The Mews at 14th Avenue is a property that now melds with its neighbors balancing modern color with nostalgic architecture.