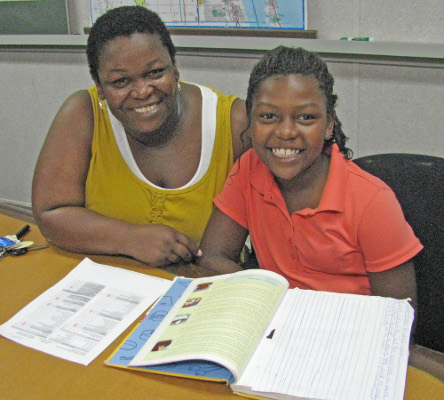 VERO BEACH — To make their dream of homeownership come true, Indian River Habitat for Humanity homebuyers must meet a number of requirements and criteria, including working a specific number of Sweat Equity hours. Typically, the adults in the family will put in their hours working on the Habitat construction site, at the Habitat houses of other homeowners, and eventually on their own home.
During the past year, Indian River Habitat for Humanity has created a way that children too young to work on the jobsite, can make a real contribution to their family's goal. For every report card "A" that a student earns, one Sweat Equity hour is credited. This not only helps the family meet the Sweat Equity requirement, but also gives the child a sense of pride and accomplishment and helps develop good study habits.
Nine-year-old Ashanti Smith, is just finishing third grade in Mr. West's class at Citrus Elementary and has been earning hours toward her family's Habitat home goal since January. Most recently, the enthusiastic student brought home "Straight A's", to her mom, Martha Robertson's, delight.
"It is just the two of us, so it is a huge help to have my daughter participate," Robertson, said with pride. "I feel great that she is able to help."
Ashanti agrees. She estimates that she puts in about an hour each evening to finish her homework, and calls the hours-for-A's plan "awesome."  Currently she is learning to sew; skills her seamstress mom is sharing with her.
"I'm making a jeans skirt right now," Ashanti says proudly.
The 8-year-old also enjoys chorus and learning ballroom dancing. For a Boys and Girls Club project, Ashanti received recognition for a story she wrote about the earthquake in Haiti.
The Hours for A's program is a recent addition to Habitat's Scholarship program.  That program offers support for Habitat students, from elementary school through high school, and also includes college scholarships.  Habitat has a firm belief that a solid education will go far in preventing the need for second-generation Habitat homeowners.
For further information, contact Habitat Resource Coordinator Debbie Parcher, 772-562-9860 X232.