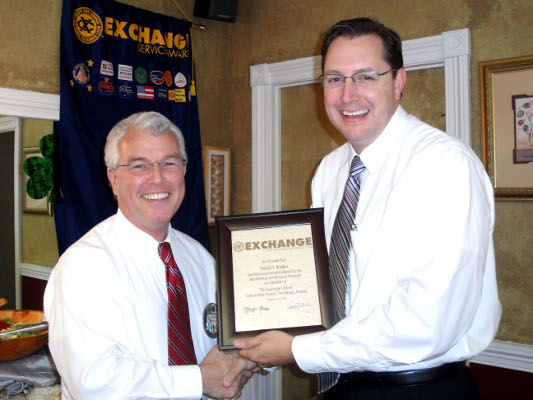 VERO BEACH — David Walker, Merrill Lynch Vice President and Wealth Management Advisor, is the newest member of Exchange Club of Indian River.  Walker, his wife Carol, and their children Catherine and Dean moved to Vero Beach from Miami Shores where he was a fourth generation resident.
A native of Vero Beach, Carol's stepfather was the late William Wodtke, 1986-87 National Exchange Club president and 1975-76 Florida District president. Mark Ashdown is Walker's sponsor for membership.
Exchange Club of Indian River meets for lunch at Culinary Capers each Wednesday at noon to enjoy programs on a wide range of professional, government and civic, charity, personal, and business topics. It provides the community with programs in youth activities, service, and Americanism.
Through participation in its national project, the Prevention of Child Abuse, the Exchange Club of Indian River's Foundation supports local projects for the prevention of child abuse. Funds for projects are raised through the Annual Exchange Club Blue Water Open "Dolphin Mania" Charity Fishing Tournament, held this year on May 21, and the Reverse Raffle each winter.
Further information about the Club is available from 2010-2011 Exchange Club president Andrew Molloy at 772-473-4416 and at the club's websites, http://www.exchangeclubofindianriver.org and http://www.bluewateropen.org.