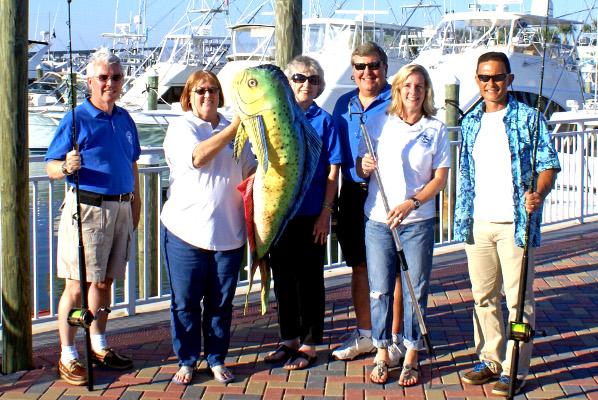 INDIAN RIVER — The members of Exchange Club of Indian River are hard at work planning the 35th Annual Blue Water Open Dolphin Mania Charity Fishing Tournament. The Treasure Coast-wide dolphin-only tournament, sponsored by Exchange Club of Indian River Foundation, will be held the weekend of May 21 out of the Fort Pierce City Marina.
First prize for the largest dolphin weighed in is $5,000, second prize is $2,000, and third prize is $1,000. Five "Bounty Booty Winners" will receive $400 each.
The mandatory Captains' Meeting will be held Friday, May 20, from 6 to 7:30 pm at the Marina's bleachers. The tournament starts at 6:30 am the next morning; all entered fish must be weighed in by 4:30 pm. The weather date is Sunday, May 22.
The entry fee for this year's Dolphin Mania is $250; anglers may enter the optional Mahi Moolah for an additional $100. If fewer than sixty boats enter, the prize money will be prorated accordingly. All the proceeds – 100% – of this popular tournament benefit local projects for the prevention of child abuse in the local community, according to John Binkley, tournament chair.
The needs of many children are overwhelming, especially at this time of economic stress. Although child abuse is a significant and increasing problem on the Treasure Coast, it can be prevented. Please join the Foundation in the fight against child abuse and neglect.
Cash donations in any amount and gifts of door prizes, raffle items, coupons, and gift certificates are welcome for this popular May 22 tournament.
For more information or to register, call tournament chair John Binkley at 772-532-9375, Club president Andrew Molloy at 772-473-4416, or visit http:/www.bluewateropen.org, or http:/www.exchangeclubofindianriver.org.