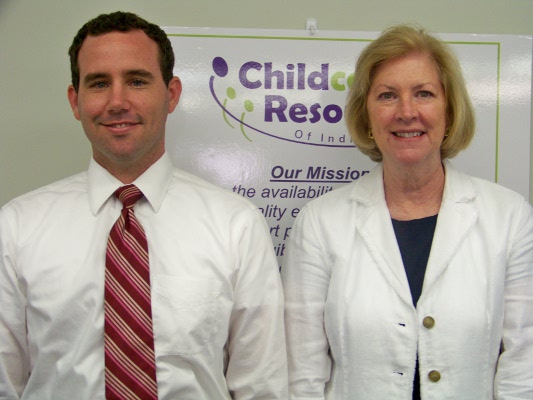 VERO BEACH – At the April 12 Childcare Resources of Indian River Annual Meeting, held at the organization's administrative offices, members of the Childcare Resources board of directors elected 2011-2012 board members, installed officers and renewed board terms. Anthony Dzielski and Carolyn Veeneman were welcomed to the board of directors. Originally from San Diego, California, Dzielski called a number of places home before moving to Vero Beach in 2008, including Washington DC, Rhode Island, and Guam.  He attended the University of Florida where he studied business and is currently employed by Treasure Coast Financial Planning, where he works with clients in developing personal financial plans.
In October of 2010 he was married to Britain Hogan, a 5th generation Vero Beach resident and broker at Merrill Lynch.  Dzielski also serves on the board of St. Francis Manor in Vero Beach and enjoys playing basketball and golf, strumming his guitar, and gardening.
Veeneman, who most recently retired as Executive Director of the Alzheimer & Parkinson Association of Indian River County, Inc., has more than 25 years of experience as a sales executive for Atrium Medical Corporation, Johnson & Johnson, 3M, and Clairol. A graduate of the University of Kentucky, in her early career Veeneman managed statewide healthcare programs for Kentucky Department for Human Resources, Bureau for Health Services from 1969-1976 and was appointed to the Governor's Special Committee on Drug Abuse and planned statewide program.
She moved to Vero Beach from Louisville, KY in 2001 with her husband Jack. She is a member of Holy Cross Catholic Church and Quail Valley River Club and a 2011 member of Indian River Impact 100. Veeneman chaired the inaugural Sparkling Jazz event to benefit Childcare Resources in the fall of 2010.
During the meeting, Governance Chair Trudie Rainone thanked retiring board members Wanda Lincoln and Jay Anglada in their absence.  Stanley Doggett was elected President of the organization.
Also on the 2011-2012 slate of officers were Treasurer, David Reisinger and Officers at Large, Barbara Neubarth and Trudie Rainone.
Also serving on the Executive Committee will be Erin Grall, Past President.  Grall was thanked by the board and staff for her three years of service as board president and was presented with a token of gratitude.
Board members Colene Israel and Margo Lind have completed one three-year term and will serve a second term. The remaining members of the 2011-2012 board include Michele Falls, Betty Ann Ludington, Judy Newhouse and Sherry Waddell.
About Childcare Resources
Childcare Resources makes quality early education accessible and affordable for financially challenged working families, provides support services to help maintain family stability, as well as a wide variety of parenting programs and professional development opportunities for early educators. The United Way and Indian River County Children's Services agency recently opened the Childcare Resources Education Center on the campus of Trinity Episcopal Church in September 2010, which cares for 53 infants, toddlers and preschoolers from eligible working families.
Since its founding in 1994, more than 1,000 children and their families have had access to quality, affordable childcare.
To learn more, call 772.567.3202 or visit www.childcareresourcesir.org.