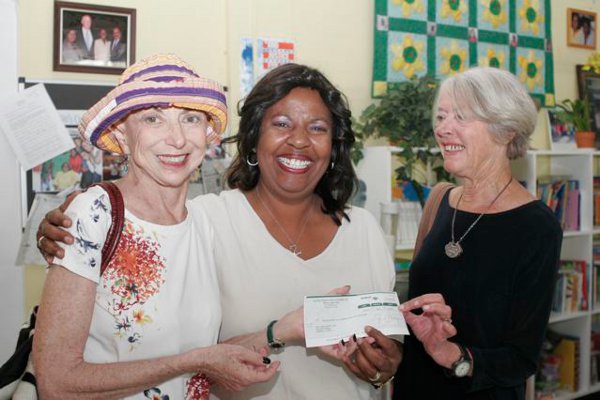 VERO BEACH – After the release of its cookbook, published in December 2010, members of the large and diverse community of Sea Oaks have enjoyed sharing their culinary offerings and the proceeds from its sale. 
Sandra Novik and Lotte Martin presented Verna Wright, Director of the Dasie Bridgewater Hope Center in Wabasso, with a check for $1,200, which will be used for the Center's summer school program. The free after-school program, in a facility only five miles from Sea Oaks, seeks to foster self-confidence and responsibility in its 120 K-through-high-school students by classroom curriculum reinforcement,  individual tutoring, homework help, and computer skills, as well as offering  creative arts, outdoor sports, and age-specific activities.
In addition, the Center provides mentoring, lessons in cooking, nutrition, and etiquette, and a hot meal daily – all in all, an awesome recipe for instilling life skills and  preparation for success.
The Center was founded by its Director, Verna Wright, in 2001, and named in memory of her mother.  It has a paid full-time staff and also welcomes volunteers.
More information may be found at its web site www.dasiehope.org or by calling (772) 589-3535.