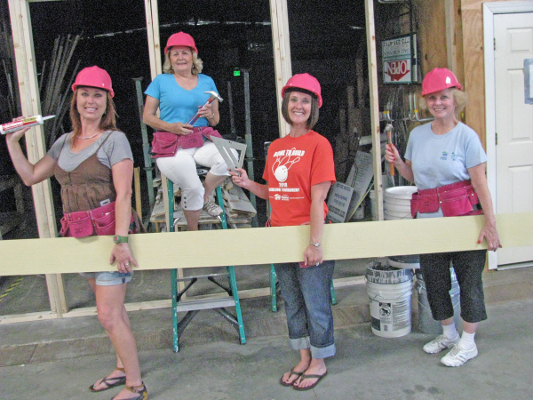 In the days leading up to Mother's Day, construction crews of female volunteers will raise their hammers at Habitat for Humanity construction sites across the country in recognition of National Women Build Week, April 30 to May 8.
National sponsor Lowe's and the nationally recognized Women Build team from Indian River Habitat for Humanity are looking for local women to volunteer Saturday May 7 for what Women Build local leader Sue Croom hopes will be a "mother-daughter" event.
"We have several mother-daughter volunteer pairs, and I think it is appropriate, since it will be Mother's Day week, to have a project that mothers and daughters can share together," said Croom. Of course, all interested women are welcome to participate, sisters, other family members or simply friends.
The women will be putting up siding on a home in Grace Meadows, Indian River Habitat's community in Fellsmere, for the Vargas family. Croom emphasized that there will be some training before the work begins, so everyone will feel comfortable with their assigned tasks.
The Mother's Day time frame was selected for its significance to many volunteers. Families with children make up a staggering number of those in need of adequate housing. More than 12 million children, one in six, live in poverty housing in the United States alone.
To date, female volunteers have built more than 1,800 Habitat houses nationwide during National Women Build week. Locally, Indian River Habitat Women Build has partially funded and built 10 homes and provided "women power" for numerous other Habitat homes throughout the county.
National Women Build Week challenges women to devote at least one day in the effort to help eliminate poverty housing. Now in its fourth year, the event has drawn more than 20,000 female volunteers from all 50 states.
Habitat for Humanity International is an ecumenical Christian ministry that welcomes to its work all people dedicated to the cause of eliminating poverty housing. Since its founding in 1976, Habitat has built, rehabilitated, repaired or improved more than 400,000 houses worldwide, providing simple, decent and affordable shelter for more than 2 million people.
For information on how to participate in the May 7 event, call Habitat's Volunteer Coordinator Jessica Schmitt at 772.562.9860 X212, or Croom at 772.388.1389 or email sueacroom@aol.com.