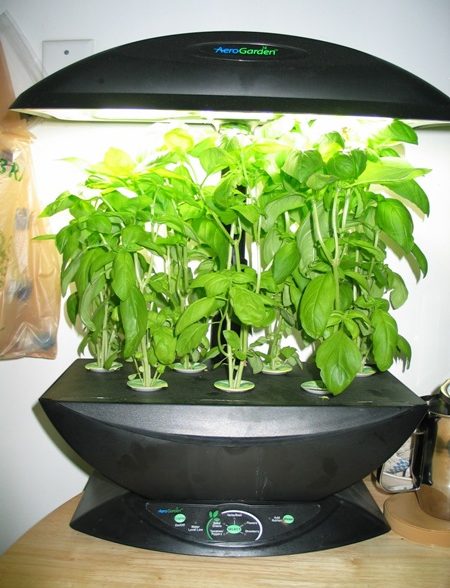 I love to cook with fresh herbs – basil, in particular. I'm not a fan of pepper, but the peppery bite from the basil is often the perfect accompaniment to many a dish I make.
To that end, a few weeks ago, I purchased an all-basil seed kit for my Aerogarden – a Christmas present a few years ago. I eagerly planted the seed pods in the device, added water and food and anxiously awaited the sprouts. Now, some weeks later, the plants are well established and I can't keep up with pruning them back! They often get so tall that the leaves burn from the heat of the grow bulbs.
I decided to take the kitchen shears to the forest of basil and, yet again, prune them. Now, I have a mountain of basil to use and no time for cooking.
What a dilemma! The last thing I want is for it to go bad. So now I've got to come up with a game plan.
I'm thinking pesto or basil cream. For pesto, I'd like to have pine nuts – which currently are lacking from my cupboard. For the cream, I need cottage cheese, so I guess that means I'll be running out to the store.
Pesto is a great, flavorful alternative to tomato-based pasta sauces. The basil cream is like a pesto, only thicker and creamy, and is yummy as a spread for sandwiches, a veggie dip and tossing with a bit of pasta, too.
Now that I'm thinking about it, I'm getting hungry!
Happy eats!Deb