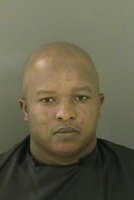 VERO BEACH – The Vero Beach Police Department, working with the Indian River County Sheriff's Office and the Drug Enforcement Agency, has arrested one man and are searching for another after concluding a month-long narcotics investigation.
Authorities announced Monday afternoon that they had arrested Jacques Vachon Bynum and were continuing their search for Paul Edward Bryant.
Bryant, 31, is described as a black male, 5 feet 6, weighing 225 pounds. There is a warrant for his arrest on a charge of trafficking in oxycodone. His bail is set at $500,000.
His last known address is 1313 33rd Street, Vero Beach.
Earlier this month, the three agencies executed two search warrants at 1313 and 1323 33rd Street in an attempt to apprehend Bryant.
Instead of nabbing Bryant, authorities captured Bynum and seize multiple items, including a Glock 9mm handgun, ammunition, several walkie-talkies, surveillance cameras and monitors, a flat-screen TV, DVD players, binoculars and night vision scope, two police band scanners, 150 oxycodone pills and related drug paraphernalia, according to the Vero Beach Police Department.
Bynum faces charges of cocaine possession and destruction of evidence.