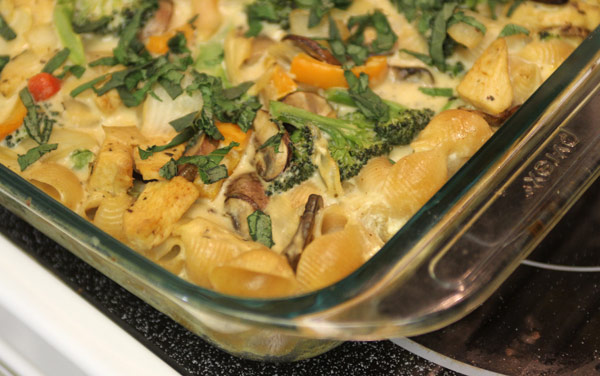 I just polished off the last of my macaroni & cheese for lunch. I've been eating off the casserole since about this time last week.
With government and community meetings, nightly assignments and little time to cook, the casserole was a blessing – I'm just glad the dish is empty! But this wasn't your average, everyday cheesy mac from a box or even from Grandmama's House.
This was 635-calorie ooey gooey veggie-packed good-for-you stick-to-your-ribs macaroni and cheese.
The recipe was adapted from a cookbook a friend loaned to me, which I'm sure would have been just fine if all I wanted was a side dish mac and cheese – not a full out casserole to feed two people for several days.
To make it a healthier and heartier version of the classic macaroni and cheese and turn it into an entree rather than side, I sauted two nice-sized boneless, skinless chicken breasts in spray oil, added sliced onions, mushrooms and red and orange bell peppers (I don't get along well with cooked green bell peppers).
I cooked up a 16 oz package of whole wheat shell-shaped pasta (though any short pasta would do), drained it off and sat it back in the pot where I mixed about two-thirds of the white sauce to combine. The rest of the sauce was poured into the large skillet to mix with the chicken and veggies.
Before the pasta was done cooking, I steamed about a half-pound of broccoli florets over the bubbling pasta water for just a couple minutes to kick-start the cooking process.
The broccoli was then moved to the chicken skillet.
As for the white sauce, I combined diet margarine with flour in a sauce pan to create a rue (a thickener), then poured in skim milk and heated to combine.
Keith lent some assistance by shredding an 8 oz brick of Cabot's 50 percent fat free cheese (found at most grocery stores), which was then stirred into the sauce.
Instead of trying to combine the pasta and the chicken mixture together, I poured the pasta into a prepared 9×13 casserole dish and topped it with the chicken and veggies.
Though my borrowed recipe didn't call for covering the dish with foil, I did so to keep the top from getting crispy. I baked the dish for about 25 minutes, pulling the cover off with 5 minutes to go to top the dish with ribbons of fresh basil from my Aerogarden (that's a story for another blog).
I pulled the casserole out as the timer chirped and let the bubbling cheesy goodness cool a bit before dishing up.
Because Keith and I are trying to take more control in our diet – we're not dieting per se, just becoming more conscious of what foods we're eating – I decided to do the math and figure out the calorie count.
That, too, is a story for another blog.
As my dinner digested and Keith cleaned up the kitchen, I went back through labels and measurements and tallied up the total number calories and divided by the number of servings – 635 calories.
For not having a salad to go along with and essentially being a one dish meal, I don't think 635 calories is too bad a number, especially factoring in all the nutrients and benefits of all the veggies that went into it.
With the casserole dish empty, now I'll have to come up with another meal to eat off of for the rest of the week. Looking at my calendar, it's going to be a busy week.
Happy Eats!
Debbie