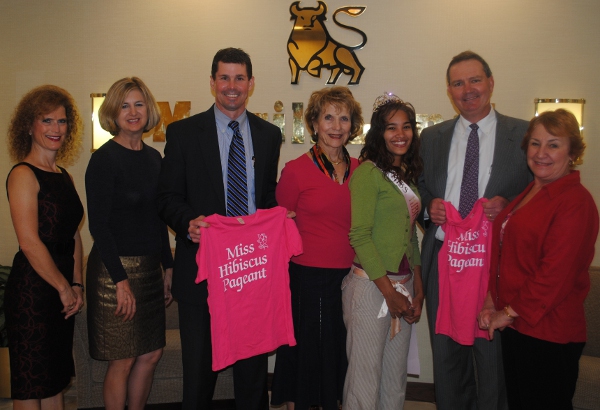 VERO BEACH — A very special part of the 2011 Hibiscus Festival is the Miss Hibiscus Pageant, sponsored this year by Merrill Lynch-Nelson Morgan Wealth Management. The Pageant, on Friday, April 15 at 7 p.m. at the Heritage Center in downtown Vero Beach, starts off a two-day event.  Miss Hibiscus 2011 will preside over the Hibiscus Festival activities on Saturday, April 16 and will represent historic downtown Vero Beach throughout the year. Single girls, who are Indian River County residents and between the ages of 16 and 20 years old, are invited to compete for the coveted title of 2011 Miss Hibiscus.  Contestants will be judged on stage presence, poise, community service, personality and a personal interview.  There will be no swimsuit or talent competition.  Attire for the Pageant is dressy evening or cocktail attire, long or short dresses may be worn.
To learn more about the Pageant, girls should plan to attend a special event to be held at the Heritage Center on Sunday, February 20 from 2 to 4 p.m.  This fun afternoon will include tips on grooming, interviewing skills, how to speak effectively, and feature a fashion show by Dillard's with both male and female models.
Deadline for registration is Friday, March 25. A contestant meeting and mixer and mandatory personal interviews will be conducted at the Heritage Center at 5 p.m. on April 7 and April 14 respectively.
The winner of the Miss Hibiscus Pageant will win a grand prize of $1,000 cash and an array of gift certificates from local businesses.  Second place winner will earn $500 cash plus prizes and third place will win $300 cash plus prizes. The tiara for Miss Hibiscus is courtesy of John Michael Matthews Fine Jewelry and flower bouquets from a local florist.
Again this year will be Miss Congeniality and Miss Photogenic prize categories. Miss Congeniality will win a watch courtesy of John Michael Matthews Fine Jewelry and Miss Photogenicwill win a photography shoot from Scott Kelly, Island Images Photography.
Each contestant must submit a $100 sponsorship with their application as well as a photograph. Contestants under 18 must have a consent form signed by a parent or guardian.
Applications are available at the Citrus Museum or may be downloaded on  www.hibiscusfestival.org.  Applications will explain contest details, and must be received by March 25.
For more information call 772-569-0974 or 772-778-8800 or email cciceskater@aol.com or gravesbass@bellsouth.net.