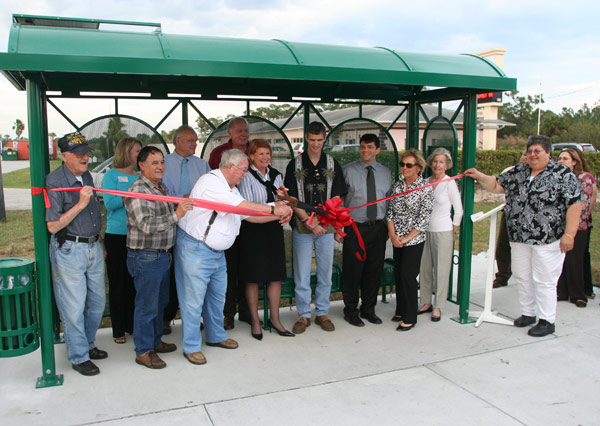 FELLSMERE – Women pushing baby strollers along County Road 512 in Fellsmere won't have to stand in the harsh sun waiting for the next GoLine bus to stop near Treasure Coast Community Health.
Instead, they can get out of the heat in the recently installed bus shelters the Senior Resource Association has provided. Fellsmere resident and Citizen Advisory Committee member Korky Korker spoke out in favor of the shelters a while ago, pushing the county to get the shelters.
"We heard you," Senior Resource Association Executive Director Karen Deigl said, addressing Korker during the official ribbon cutting ceremony Monday evening.
"I always say no one listens to me," Korker said after the event – but now that the shelters have become reality – he can no longer say that.
Korker said that he had brought the shelters to the SRA's attention, trying to get them done for free by allowing advertising on the shelters to cover the cost.
When the county decided not to allow the advertising, Korker said he believed the shelters would just drop.
"Now, I see they're here," he said. "It really makes me proud to see things happen."
Fellsmere received two bus shelters, the first of a few more to follow in the coming months.
Countywide, the SRA has installed eight shelters, including sites in Sebastian, Vero Beach and the unincorporated parts of the county.
Deigl said that they plan to install a dozen more, bringing the total to around 20.
Last year, GoLine provided approximately 900,000 trips in the county, according to Deigl. The SRA anticipates providing nearly 1 million trips this year.
Riders can take the bus for free six days a week and connect to several points of interest throughout the county.
Commission Chair Bob Solari was on hand to recognize the joint efforts between the local governments and the SRA in bringing about the shelters.
Solari, a proponent of limiting government to the essential services, called the bus shelter and service itself a basic, essential service.
He said the buses help people help themselves – by getting them to work, getting them to training to improve themselves – and otherwise helping them to not rely as much on the government.
"I don't think there's anything better" than the bus shelter and what it represents, the commissioner said.