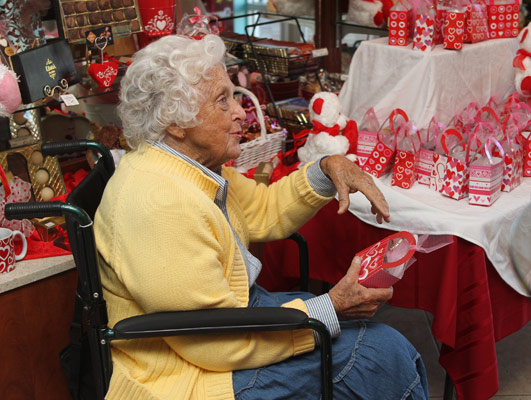 VERO BEACH – Valentine's Day is a few weeks away but that didn't stop the Military Moms Prayer Group from packing up more than 100 boxes filled with sweet treats and handmade Valentine wishes to send to the military service men and women stationed overseas.
This year's shipment was bolstered through the generosity of Indian River Shores resident Elaine Hameister's Christmas and Crumpets event held in December, which raised more than $700 for shipping the packages and another $700 in gift certificates to Kilwin's Chocolates and Ice Cream in Vero Beach.  
"It's overwhelming," said Military Moms organizer Pam Proctor of the community's support of their efforts. "It's validating."
Ms. Hameister, who has put on Christmas and Crumpets every year for the last 46, decided that this last one would go to support the Military Moms Prayer Group.
"People are usually so generous," she said, especially when helping children's organizations provide toys at Christmas – which is what her event typically helps.
"I think they need the help," Ms. Hameister said of Military Moms. Invitees "really responded to Checks and Chocolate" – the event's theme, she added.
She and her husband sent their first care package to a soldier through Military Moms about four years ago and received a letter from the Major who had gotten it.
"It was really moving," she said of his letter.
Thirty-seven soldiers who have some connection to Vero Beach – either from birthplace or relatives – will receive a couple boxes each to share amongst their teams.
"It's been so much fun," Kilwin's owner Julie Denning said of helping the Military Moms group. "It's been our pleasure."
Little gift bags filled with Kilwin's chocolates were placed in boxes loaded with Valentine's made by various schools' students, other candies and a couple pairs of socks.
"It's really just a package of love," said Military Moms' Roma Anderson.
In about 35 minutes, the Military Moms Prayer Group and community volunteers packed up more than 100 boxes to ship to Afghanistan and Iraq. The Valentine's Day shipment is the last time soldiers will be able to receive chocolates until Christmas, due to the too warm climate in the Middle East.
Proctor said that before Ms. Hameister stepped up to help with chocolates, the Military Moms Prayer Group wasn't sure how much it would be able to send or what would actually be in the boxes.
"This is a special treat from Vero Beach," she said.
Member Wendy Segalla, with tears welling in her eyes, approached Proctor to show off a Valentine created by a student.
"We start reading these letters and there isn't a dry eye," she said, holding back a sniffle.
Her son, David, is a Lieutenant Colonel serving in the Army in Afghanistan, working to train the Afghan police.
Segalla said her son had given her orders to not ship him a care package – instead to send to other men in his unit. One box that will be sent overseas will have his name on it.
"We have such a wonderful community that gives so much," said Military Moms organizer Joyce Desrosiers.
For more information about the Military Moms Prayer Group, call (772) 231-2221, e-mail info@militarymomsprayergroup.com or visit www.MilitaryMomsPrayerGroup.com.