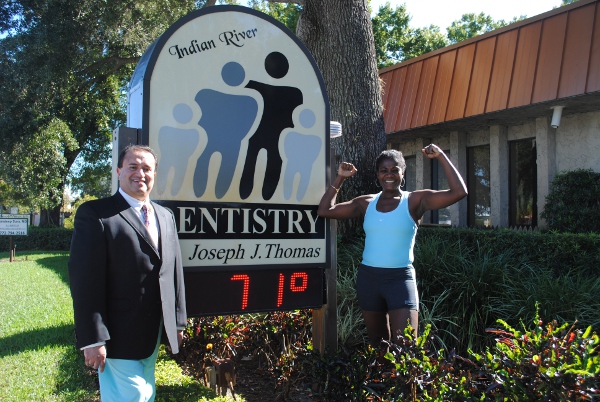 VERO BEACH — The Dr. Joe Thomas DDS Hibiscus Festival 5K Hibiscus Run will be the start of a day full of activities for the 2011 Hibiscus Festival.  Participants are invited to join the Run, which will begin at 7:00 a.m. on Saturday, April 16 at the Vero Beach Municipal Airport.
The course is a fast, flat, one-way route that leads runners through the streets of old Vero Beach and ends in historic Downtown Vero Beach.  One water station will be available at the halfway mark. Juice will be provided by Natalie's Orchid Island Juice Company.
The entry fee is $25 in advance or $30 on race day, April 16.
Technical t-shirts will be available to the first 150 who pre-register. The annual pancake breakfast, prepared by the Lion's Club, will be served at the Heritage Center immediately following the race for registered runners, with juice provided by Natalie's Orchid Island Juice Company.
Awards for the overall male and female winners, overall male and female masters and First through Third places (male & female) in the following age groups: 0-9, 10-19, 20-29, 30-39, 40-49, 50-59, 60-69, 70-79 and 80+ will be presented inside the Heritage Center.
Entry fees cannot be refunded and pre-registration is encouraged.  For safety reasons, no dogs, headsets, roller-blades or baby strollers will be allowed.
Race packets will be available for pick up prior to the race at the Main Street Vero Beach Office in downtown Vero Beach (inside the Cultural Council Office) between 10 a.m. to 5 p.m. on Thursday, April 14 and Friday, April 15, or at the registration table at the start of the Run.  Registration starts at 6 a.m.
Checks should be made to the Hibiscus Festival, memo 5K Run and mailed to P.O. Box 6253, Vero Beach, FL  32961 . Please include your name, address, city, state, zip, phone, age, gender, shirt size and email address.  Participants under age 18 will need a parental signature.
For more information email Concessa Bowman, concessa@bellsouth.net or W. Craig Weyandt, superintendent@themooringsclub.com, Race Directors.
The Hibiscus Festival is presented by the City of Vero Beach to benefit Main Street Vero Beach and Vero Heritage, Inc.  The Presenting sponsor is the City of Vero Beach .
Visit www.Hibiscusfestival.org for additional Festival information.