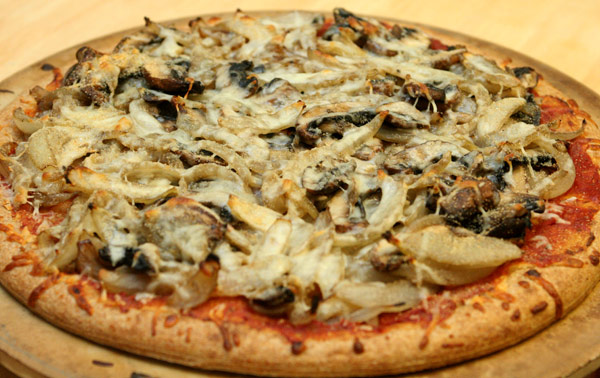 Pizza and a movie…Movie and a pizza – the two just go together.
But what do you do when the end of the year is upon you and you realize you didn't really stop indulging since Thanksgiving?
Keith and I absolutely love ordering pizza from one of the local pizzerias, but it's just not that healthy.
Ok, so it's pizza – you're supposed to pig out, live a little.
And we do…but every once in a while the "health bug" bites and it's time for us to reconsider our dining habits.
So it's off to the grocery store – not for a store-bought frozen pizza but for a whole wheat pizza crust.
Near the deli at the store we frequent, there is a whole wheat thin crust – it's a little pricey, but still cheaper than dining out or calling for delivery.
While Keith picks out a movie, I preheat the oven, slap the crust on our pizza stone and pop it in for a few minutes, just to crisp it up a bit.
In the meantime, I mix together a can of tomato paste with a few splashes of water to thin it down a smidge and season it with oregano, basil and parsley. A touch of garlic and onion powders round out the sauce.
After popping the crust out of the oven, I sauté mushrooms and onions – with luck, the onions caramelize. I haven't quite mastered that technique – so it's sometimes hit or miss. So long as I don't burn the onions, no one here seems to mind.
I lightly oil the pizza crust, spoon a thin layer of sauce over it – all the way to the edge – and sprinkle a bit of Italian-blend shredded cheese. Next go on the onions and mushrooms, in an even layer, topped with more cheese and another sprinkle of herbs.
Back goes the pizza into the oven for the suggested time (per the crust package) – and the waiting commences.
I know the pizza doesn't take long once in the oven – but it feels like an eternity when you're anxious to queue up the movie.
Out comes the pizza, a yummy pie of cheese, mushrooms and onions. Wait a couple minutes longer to let it set up before cutting into it…yum!
Loading up the plate with a few slices, I almost forget what movie we're going to watch. Keith hits 'play' on the DVD player – now I remember.
But the movie takes a backseat while I chow down on my less-guilt pizza.
What are you're homemade pizza tips? Are multiple pizzas the way you have to go in order to keep everyone happy?
I'd love to hear from ya – so leave a comment below or e-mail comments@veronews.com with Journalist Eats in the subject line.