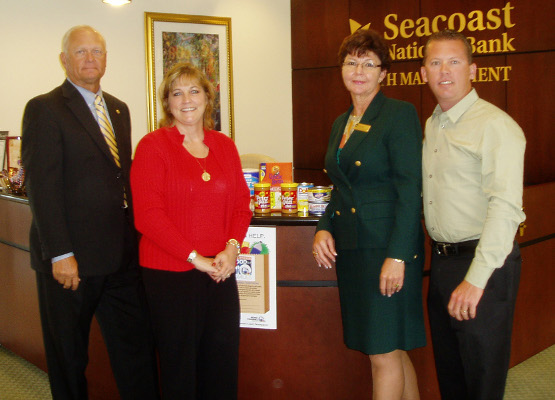 VERO BEACH – To recognize National Hunger and Homeless Awareness Week, November 21-28, Seacoast National Bank wrapped up the Bill Brook's Food For Families drive, which the bank co-sponsored with WPTV Channel 5.
In Indian River County alone over 1,300 pounds of non-perishable food were collected at eight Seacoast branch offices throughout the county for donation to Harvest Food & Outreach Center's Emergency Food Box Pantry. The Bill Brook's Food For Families drive was conducted from mid-October through November 23 in Indian River, St. Lucie, Martin and Palm Beach counties. Seacoast designated individual hunger relief agencies for each county to receive food that was donated within that county.
"The bank has been a sponsor of the four county, four week Food for Families drive for the past three years," explained Tom Wilkinson, Seacoast's President of the Treasure Coast and Palm Beach County. "Bank-wide we also provide year-round financial support for many nonprofit agencies that focus on the issues of hunger and homelessness in addition to the hundreds of hours that Seacoast employees donate to provide assistance whenever and wherever possible."
Seacoast was also a sponsor of Harvest Food & Outreach Center's 2010 Turkey Trot that was held on Thanksgiving Day and supports other Indian River County agencies that focus on hunger and homelessness – conducting budget classes for Homeless Family Center, working on fundraising events for Samaritan Center, and providing financial donations for The Source.
Founded by Austin and Ginny Hunt in 2003, Harvest Food & Outreach Center's mission is to help those in need to transform their lives by providing food, crisis care, opportunities for education and employment, and a hand up to families, individuals and children who are fighting to break the cycle of poverty. Thousands of families have received help at the south Vero Beach campus and received emergency food in times of crisis or taken part in the organization's long-term food subsidy program, which gives them access to high quality foods available on a regular basis at a fraction of the regular price. The organization recently opened the Harvest Thrift Store, which helps to fund programs and services, and is expected to open a Hunger Relief Center that will distribute as much as 180,000 pounds of food each month to people in need. The new center, slated to open in early 2011, will include a self-sustaining 5,000 sq. ft. Cost Share Grocery Center and 1,500 sq. ft. Emergency Food Box Pantry.  For more information, visit www.harvestoutreachcenter.org.