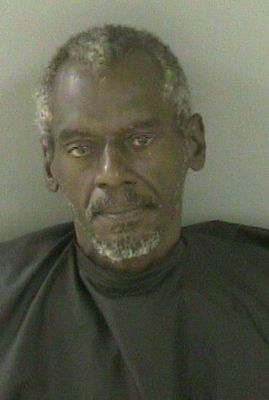 INDIAN RIVER COUNTY – A homeless man has been arrested, accused of holding up the AA Beads and More store on US 1, stealing employees' wallets, cell phones, cash from the register and groping a woman.
The Indian River County Sheriff's Office arrested Stevie Leroy Lark, 54, two days after authorities say he went into the store brandishing a handgun and demanded the wallets and phones of those inside. There were three people in the store at the time, according to the Sheriff's Office. One was a woman, who told investigators that the robber patted her down after she told him she had neither a wallet or cell phone on her.
During the pat down, she said, the man touched her inappropriately. He then demanded money from the cash register, with which the woman complied.
As he left, the man took one of the victim's keys and drove off in the victim's vehicle.
The vehicle was later recovered and a K-9 unit tracked a scent leading to the handgun used in the robbery. The victims had noted the gun had been wrapped with something white. The gun found, according to the Sheriff's Office, had been wrapped in white tape.
On Nov. 15, two days after the robbery, a witness called the Sheriff's Office to report seeing the suspect at the Hess gas station located at US 1 and 41st Street.
The caller believed him to be the same guy he saw hiding in the bushes behind his house. The suspect matched the description passed out to the neighbors in the area, the Sheriff's Office said.
Authorities responded and took Lark into custody. He faces charges of robbery with a firearm, grand theft of a motor vehicle and possession of a firearm by a convicted felon, according to his arrest report.
He is being held at the county jail on $200,000 bond.