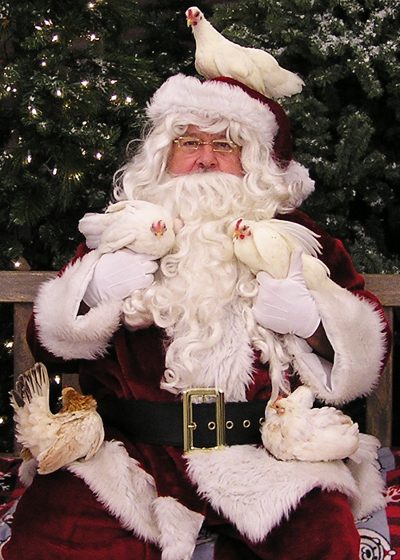 VERO BEACH — Santa Paws will be stopping his sleigh at The Humane Society of Vero Beach and Indian River County on Saturday, November 6 and Sunday, November 7 from 11:00 a.m. to 4:00 p.m. During his short stay, pets and their family members will be able to get their photos snapped with Santa and his elf assistants. Since the animals often tell Santa they'd like to "lend a paw" to help less fortunate animals, a $15 sitting fee will be collected to help the Humane Society make their wish come true.
The sitting fee includes one photo plus a digital file for reproduction. Family sittings are welcomed and the photos make great gifts or can be used for printing holiday cards.  Proceeds help Humane Society protect and care for animals in need.
"I must confess that my favorite pets live in Indian River County. They are always quite friendly and well behaved," revealed Santa Paws during a phone interview from the North Pole.
In years past, Santa has met a variety of Indian River County pets including dogs, cats, ferrets, rabbits and even several pet chickens.
"It's so touching that the community is supportive of helping its needy animals," Santa Paws explained.
Santa Paws has asked that reservations be made prior to his visit so that he can spend quality time with every animal and family.
Call (772) 388-3331 ext. 20 to make an appointment if you and your pet(s) would like to be photographed with Santa Paws.
The Humane Society of Vero Beach and Indian River County is a nonprofit organization dedicated to helping the animals of Indian River County and is located at 6230 77th St., Vero Beach.