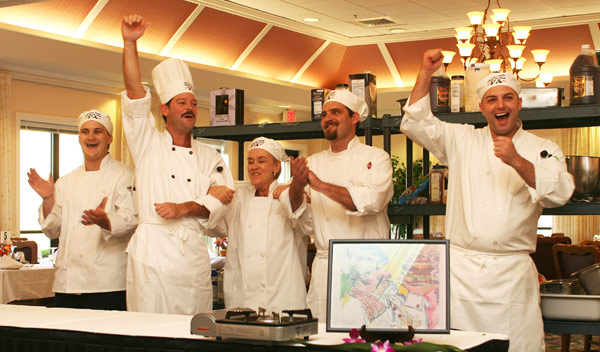 VERO BEACH – The Battle for the Best Chef at Indian River Estates left audience members feeling full and satisfied as two chefs from ACTS retirement community Indian River Estates took on and beat the chefs from sister community Azalea Trace from Pensacola.
The battle served as a fund-raiser for The Samaritan Fund, which helps seniors in need, and succeeded in raising $4,000. After a grueling 90-minute battle churning out an appetizer, an entrée and a dessert – all featuring the secret ingredient of avocado – Chef Steven Reschak, of Indian River Estates West, took home the title.
"We're all good chefs," Chef Reschak said of his competition. "We had lots of creativity and we kept our ground and did what we did best."
Despite the win, the chef doesn't expect his ego to get the better of him, though he admits he'll be standing a bit taller when he walks into the kitchen.
His team from Indian River Estates West will take on the winning team from the Boca Raton ACTS Communities in October in the regional competition.
"We're going to have to come up with something different," the chef said, adding that with this "Iron Chef"-type competition behind him, he knows what to expect.
His winning menu consisted of an avocado garden rollup as an appetizer, hummus-stuffed chicken with avocado tzatziki sauce and mushroom shaped red potato, and a sweet avocado mousse parfait for dessert.
Chef Reschak said that challenge for his team was adding flavor to the avocado without overpowering the fruit.
Throughout the evening, more than 80 residents from both Indian River Estates East and West dined on the creations presented to the judges, many nodding in agreement with what the judges had to say.
Those judges included Chef Debbie Midkiff, a former Disney chef and the current director of The Culinary Institute of the Treasure Coast; Beth Moulton, publisher of Vero Beach Magazine; and Charles Coxson III, vice president of ACTS Retirement-Life Communities.
Comments from the judges on Indian River Estates West's food ranged from, "I could see this (appetizer) on a summer menu somewhere," to "aggressive choice" in ingredients, and "really unusual."
The judges awarded Chef Reschak's team 121 points of 135 in categories that included flavor/texture/taste, creativity, and serving method/presentation.
Chefs at ACTS communities in eight states will continue the competition for "Best Chef" through next September, when the champion will be crowned.
"It's not just a job to them," Master of Ceremonies Jon Addess told the crowd at Indian River Estates. "It's a labor of love."