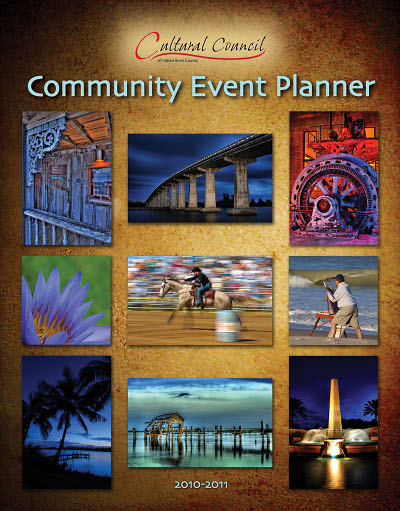 VERO BEACH — The public is invited to attend the Cultural Council of Indian River County's 2010-11 Community Event Planner Kickoff Party, 5:30 to 7:30 p.m. Wednesday, September 22 at the new Cultural Council office at 2041 14th Avenue in Historic Downtown Vero Beach.
Join the Cultural Council as it celebrates the publication of the Fifth Annual Community Event Planner, filled with upcoming special events in our community.  The calendar lists art exhibits, fairs, musical and theatrical performances, lectures and fun festivals for the whole family.
Pick up your own copy of the planner, and congratulate J. Scott Kelly on his winning cover entry; a beautiful photographic collection of pictures depicting Indian River County.
If your business or organization would like a box, you can pick some up at this event to handout to your customers and clients.
The event is free and open to the public.  Light refreshments will be provided.
Information:  Call Mary Jayne Kelly, Executive Director at (772) 770-4857 or visit www.cultural-council.org.