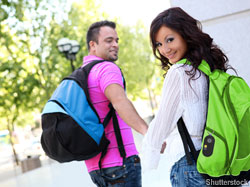 (ARA) – The school bell will soon ring for your children, whether they're boarding the elementary school bus or unloading a car full of furnishings into their tiny college dorm room. Before their classes begin and assignments start rolling in, make sure they have everything they need to succeed during the school year.
Parents often voice the same two concerns when checking items off their back-to-school shopping lists. "How will my children stay organized during the school year?" and "How heavy will their backpacks be?"
Luckily, technology is available to ease both concerns. Sure, notebooks and folders are still important school supplies, and textbooks are a must, but class projects now rely on computer programs just as much as loose-leaf paper. Instead of loading materials into a crammed backpack, students can stay organized and lighten their load using simple and affordable storage solutions.
"It's a busy back-to-school season once the class supply lists are sent home," said Bob O'Keefe, vice president, retail marketing, SanDisk. "Parents are already hard at work trying to save money, yet still provide their children with everything they need for a great school year."
If your children need convenient portable storage at an affordable price, then SanDisk Cruzer USB Flash Drives found at Walmart offer a perfect solution. The drives are available in different storage capacities to suit the workloads of different grade levels, and they come in a variety of colors such as Blue Morpho or Competitive Orange. A helpful suggestion for keeping your child organized – complement the flash drive color to each subject's folder or notebook so that nothing gets mixed up.
Once your student enters high school, college or even the professional world, they will need to keep their work safe on a backup USB. SanDisk Ultra Backup USB Flash Drives let you archive projects, reports, presentations, photos and even music and videos at the push of a button. As any student knows, backing up documents is crucial, especially as due dates approach. Nobody wants to lose their work just before the deadline.
Many college students have to lug their laptops to classrooms in order to take notes, but some students want to devote their whole attention to the lecture. The Sansa Clip+ MP3 player includes a voice recorder that lets students save an entire lecture for review later on. As an added benefit, the tiny player makes for the ultimate workout companion, and is very affordable. The player is also compatible with slotRadio music cards, which offer up to 1,000 preloaded songs for only $39.99, letting your student rock out as they stroll across campus.
As you review the school supply lists, make sure you consolidate items as much as possible – to save yourself some money, keep your child organized and reduce the amount of weight on his back.