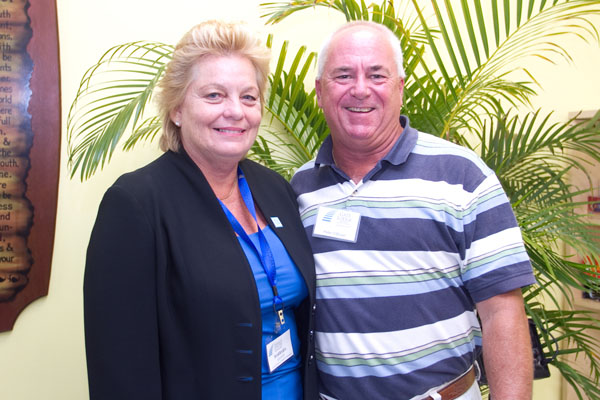 VERO BEACH — Hanley Center, one of the country's preeminent non-profit addiction treatment facilities, hosted a reception on June 23 to officially introduce Gate Lodge Hanley Center at Vero Beach, a newly opened addiction recovery facility to bring hope to individuals afflicted with the chronic disease of drug and alcohol dependency. Nearly 150 business, civic and philanthropic leaders from the Vero Beach area attended to get a first-hand look at the 20-bed facility for men and women, located on the campus of Indian River Medical Center.
After enjoying refreshments and hors d'oeuvres prepared by Gate Lodge's on-site chef, guests gathered in the Common Room to learn more about the 28-day program. The presentation opened with an invocation by Reverend Tim Woodard of the Community Church in Sebastian, followed by remarks from Dr. Barbara Krantz, Hanley Center's CEO and medical director, and Michael Counes, executive managing director of Gate Lodge. Both acknowledged the many individual and collective efforts that were instrumental to the opening of Gate Lodge, and they gave special recognition to George Hamner for his lasting contributions to addiction recovery.
"It's been a longtime dream of both the Hanley Center and of our founders and dedicated board members, Mary Jane and Jack Hanley, to establish a first-rate treatment program in Indian River County that is priced at a very accessible level," said Dr. Krantz. "Just a few weeks ago, that dream became a reality as we officially opened the doors to Gate Lodge and began accepting guests. We opened at nearly 50 percent capacity, testament of the critical need for a program like this."
Other guests included Joyce and Thomas E. Rossin, Hanley Center board chairman and former Florida State Senator; Betty and Leo Pierce; Ellie McCabe; Susie and Sam Bell; Ann Marie and Dr. Hugh McCrystal; Indian River County Sheriff Deryl Loar; and Indian River County Commission Chairman Peter O'Bryan and his wife, Susan.
Fully licensed and accredited by the Department of Children and Families (DCF), Gate Lodge Hanley Center at Vero Beach offers guests a 28-day recovery program structured around the 12-step philosophy. The staff includes certified addiction professionals and volunteers from the recovery community who serve as mentors and help each guest create a bridge from addictive behaviors to a sober, responsible lifestyle. Priced at $4,200, it serves as an accessible and cost-effective treatment option for people subject to relapse and those who have already tried and/or completed standard treatment. It also welcomes people in long-term recovery looking to reinforce their choice for a substance-free way of life.
Since 1986, the acclaimed Hanley Center has provided cutting-edge, evidence-based care for thousands of individuals and families struggling with addiction. Hanley Center's team of certified medical professionals employs an integrated 12-step approach to help patients develop individualized personal-care plans to guide them through recovery. The center is the first treatment facility on the east coast to use SPECT scan imaging to capture brain images of patients afflicted with the disease of addiction, which helps to customize each patient's treatment plan, track patients' progress and to scientifically document effective treatment protocols.