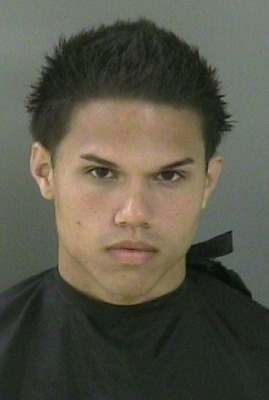 INDIAN RIVER COUNTY — Detective Al Rosemond with the Indian River County Sheriff's Office arrested 19-year-old Devin Domingo Castro, of Ft. Pierce, Thursday for second degree arson in a case dating back from February 2009.
Early last year, Cheryl Herron, of Ft. Pierce, reported her vehicle stolen in St. Lucie County. Later that day deputies and firefighters from Indian River County responded to a vehicle fire between the 1300 block of 27th Avenue SW and the 1700 block of 43rd Avenue SW, on vacant property. Deputy Chris Luther spoke to witness who indicated they saw Herron's stolen vehicle being driven by two Hispanic males who were just "riding around."  The witnesses later saw the same males in the vicinity of the car and a short time later noticed it was on fire and the suspects had fled the area.
Detective Rosemond later interviewed the witnesses again and he was able to identify Castro as one of the vehicle's occupants.
Forensic evidence is still being processed and the Fire Department's arson investigator is working in conjunction with Detective Rosemond.
Enough evidence was collected to have an arrest warrant issued for Castro.  He was taken into custody early this morning shortly after midnight on a charge of felony arson. He is being held at the county jail in lieu of $10,000 bail.
The identity of the second suspect is still being sought.
Anyone with information about this case can contact Detective Rosemond at (772) 978-6106 or Crime Stoppers 1-800-273-8477 in reference to case number 10-20018.