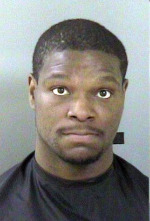 VERO BEACH — Corey Spinks, former undisputed welterweight champion and the son of former heavyweight champion Leon Spinks, was charged by the Indian River County Sheriff's office early Saturday with driving under the influence and leaving the scene of an accident.
According to the sheriff's report, the 32-year-old Spinks was traveling westbound on the 800 block of First Street Southwest in a gray Chevrolet at about 2 a.m. Saturday when he struck a parked Ford Explorer.
The owner of the Explorer witnessed the accident and told the officer Spinks got out of his car asked if everyone was OK and then apparently tried to leave the scene. When the officer arrived he said Spinks' Chevrolet was about 200 feet from where the accident occured.
Spinks told the Sheriff he did not see the vehicle because the road was dark and after checking if everyone was all right he was parking the car.
Spinks also told the officer he had two glasses of wine with friends in Jupiter. In his report the officer said he could smell alcohol on Spinks' breath and his eyes appeared glassy.
Spinks completed three field sobriety tests with varying degrees of success and was taken into custody.
He also agreed to a Breathalyzer test where he blew a 0.78 and 0.74, both under the legal limit of 0.80. He is currently out on $1,000 bond and is scheduled to be in court on May 11.
According to the Web site BoxingScene.com, Spinks is in Vero Beach working with renowned trainer Buddy McGirt.
"The incident comes on the heels of what has been a frustrating stretch for Spinks," Jake Donovan wrote on BoxingScene.com. "The second generation prize fighter has been inactive since last April and has twice seen his mandatory (IBF junior middleweight) title defense against Cornelius "K9″ Bundrage postponed, with no rescheduled date yet set."
"Spinks' last ring appearance came a year ago, scoring a well-deserved decision over Deandre Latimore in St. Louis to begin his second tour as a junior middleweight titlist," wrote Donovan.