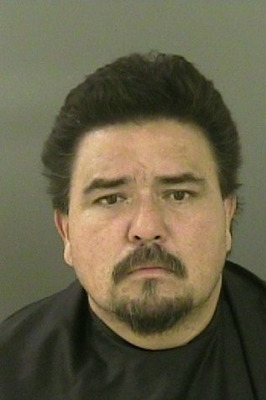 FELLSMERE — The man the Fellsmere Police Department hunted for seven months for sexually abusing a 5-year-old child will spend the rest of his life in prison, Circuit Court Judge Robert Hawley decided Tuesday.
"That's great news," Fellsmere Police Chief Scott Melanson said after hearing about the conviction from the State Attorney's Office. German Zuniga Ramirez, 47, has been convicted of child abuse and sexual battery of a child under 12 and will serve a life sentence without the opportunity for parole.
The conviction comes 1 year, 10 months and 6 days after the child's mother called police to report the sexual assault on March 27, 2008.
"She was really happy," Fellsmere Police Sgt. Carlos Acevedo said of the victim's mother when she heard Ramirez would no longer be able to hurt anyone.
The police department initiated its investigation and in one day had enough information to have the courts issue warrants for Ramirez's arrest. By then, however, he was gone.
"The trail went cold," Chief Melanson said. Investigators heard Ramirez had fled to Fort Pierce, but they couldn't find him.
It wasn't until authorities in Michigan called the Fellsmere Police Department in either late September or early October 2008 that local officials had a bead on Ramirez.
Chief Melanson said that Berrien County, Mich., officials picked up Ramirez on unrelated charges and realized that he might be the same guy for whom Fellsmere was looking. Fellsmere officials positively identified Ramirez and on Oct. 17, 2008, he was extradited and booked into the Indian River County jail.
For more than a year, Ramirez sat in jail waiting for his case to go to trial, which it did on Monday, Feb. 1, 2010, and he was found guilty of both child abuse and sexual battery. The next day he was sentenced.
"The citizens of the US – because he moved around – can rest easier," Chief Melanson said of Ramirez's conviction.
Sgt. Acevedo said that the conviction was a big relief to him but the bigger relief was when he heard that Ramirez was arrested in Michigan because he knew Ramirez would not be out in the public anymore.
"You never know what's going to happen," he said.
Sgt. Acevedo and Officer Jose Rendon were on the case since the day it was reported, Chief Melanson said, crediting them for their work in the successful conviction. The chief also said that testimony from Indian River County jail personnel was critical because they had overheard Ramirez talking about his involvement in the case.
Assistant State Attorney Pat O'Brien prosecuted the case.