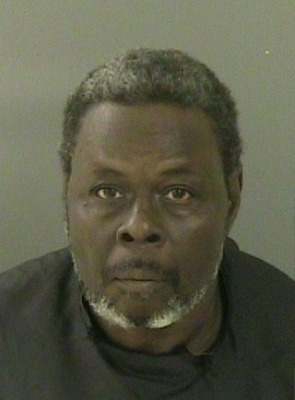 GIFFORD – A Gifford man is in jail on $200,000 bond after authorities say he shot his brother and threatened another man with a handgun and a shotgun Wednesday, claiming that his nephews were hiding in trees and bushes to rob him.
The Indian River County Sheriff's Office arrested Harvey Stribling, 64, of 4425 25th Ave., shortly after 1 p.m.
When authorities arrived on scene, they found one of Stribling's brothers with a gunshot wound to the ankle. He was taken to Indian River Medical Center for treatment. According to the brother, he had gone to Stribling's home to collect his personal belongings, during which time Stribling shot at him outside the home, firing six rounds and missing each time.
The brother hid behind a pickup truck as Stribling went back inside, he told deputies. Stribling then came back out with a shotgun, firing three times at his brother as the brother tried to run away, according to authorities. One of Stribling's shots caught the brother on the heel.
A witness told authorities that he heard the gunshots coming from the area and saw the brother, a friend of his, running from the home. The brother told the witness to call 911, that he had been shot.
The witness then saw Stribling, still carrying the shotgun and when Stribling caught sight of the witness, Stribling called the witness by name and said, "It's best for you to leave or you're going to get it," the witness told investigators.
Immediately following Stribling's comment, the witness said the man leveled the shotgun at him and the brother and fired a single round, missing both of them.
A neighbor also told authorities that she heard what sounded to be fireworks next door and when she looked outside, she saw Stribling holding a handgun.
Stribling caught sight of the woman, who then ducked out of view, she told authorities. She said Stribling then began screaming and she feared for her life.
For his part, Stribling told deputies after he was arrested that "Doug" – whose name doesn't correspond with any of the witness or victim names given in the report – "came over to the house and put his foot in the door and came out with it."
He also said his nephews were hiding in the bushes and trees trying to rob him.
There was no mention of other family members on scene in the arrest report.