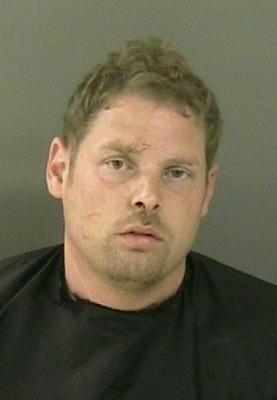 INDIAN RIVER COUNTY — A case of road rage near the Pointe West community on State Road 60 has led to one man's arrest, another man in the hospital with broken ribs, and a vehicle in a lake, according to the Indian River County Sheriff's Office, all over one driver honking at another trying to make a U-turn.
Thirty-year-old Edward Michael Gold was arrested on numerous charges, including felony battery on a law enforcement officer, felony aggravated battery, three counts of misdemeanor battery, criminal mischief, resisting arrest without violence, and leaving the scene of an accident with property damage. Authorities responded to traffic crash at the 8200 block of SR 60, finding one man lying on the ground injured.
According to the arrest report, Gold, of no known address, cut off Garry Lollio, causing Lollio to be rear-ended. All three vehicles pulled to the side of the road, where Lollio got out and was confronted by Gold.
Gold punched Lollio in the face, knocking the man to the ground, where Gold then kicked and punched Lollio several times, the report states. Lollio was taken to an area hospital, where he was treated for several broken ribs.
Lollio's passenger and two witnesses, all women, tried to pull Gold off of Lollio during the confrontation, according to the report. Gold then either punched or slapped the women, causing bruising and/or swelling and then fled the scene to Walker Club apartments.
Gold rammed his vehicle into the apartment complex's gates and then got out as the vehicle rolled into the lake, the report states.
The man ran into nearby woods in an attempt to hide from authorities who had, by then, arrived on scene. A K-9 unit found Gold and authorities attempted to place him in handcuffs.
Gold struggled against the deputy and grabbed the officer's radio and uniform with one hand and struck the deputy with his other hand.
Deputies were able to subdue Gold and placed him under arrest. Gold told authorities that the incident started when the driver behind him honked his horn while Gold tried to make a U-turn. Gold then pulled over next to Lollio's vehicle and both men got out.
Lollio "started to run his mouth," Gold told investigators, adding that he punched Lollio in the face. He also said that when Lollio hit the ground, "two or three other people came over and tried to fight him so he punched them as well."
Gold told authorities that he is known to black out when he gets into fights. He is being held at the county jail on $52,000 bond.