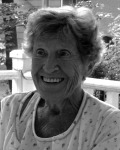 Nancy P. Knapp, 85, of Vero Beach, died Nov. 24, 2009 at the Indian River Medical Center in Vero Beach.
Mrs. Knapp was born May 29, 1924 in Brooklyn, N.Y. and moved to Vero Beach in 2004 from Stony Brook, N.Y.  She was a homemaker with six children and loved the sea, her large extended family and many friends.
She was an avid antique collector and lived her life to the fullest.
Survivors include her daughters Jane Whelan of England; Jessica Knapp and Marjory Knapp both of Vero Beach; sons Gideon Knapp of Sebastian, Jonathan Knapp of Vero Beach and Shepherd Knapp of Jupiter; brother James Palmer and sister Anita Wright both of California; sixteen grandchildren and nine great-grandchildren.
Memorial contributions may be made to the VNA / Hospice Foundation, 1110 35th Lane, Vero Beach, FL 32960.
Arrangements are under the direction of Cox-Gifford-Seawinds Funeral Home and Crematory, Vero Beach. Condolences may be sent through www.seawindsfh.com/obit.php