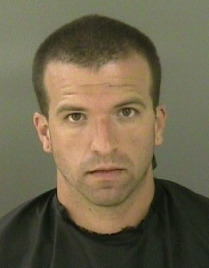 By Debbie Carson, Online Editor
VERO BEACH — A homeless man was arrested after authorities rescued a black Chihuahua from the man's black Saturn parked in the sun at Indian River Mall Wednesday. Authorities said the car was at least 108 degrees inside though the windows were cracked and the outside temperature was 86 degrees.
The Indian River County Sheriff's Office arrested Walker Dion after responding to the scene when mall security notified deputies.
The dog was found lying on the floorboard, panting without food or water, authorities said.
The deputy was able to reach through a cracked window and turn the window crank to roll down the window.
An Animal Control officer arrived on scene and pulled the Chihuahua from the car, placing it in his air conditioned van.
During the rescue, Dion returned to his car.
"Mr. Dion had no remorse for the animal or any explanation why he did not leave water for the dog or park in a shaded area," the report states.
Animal Control transported the dog to the Humane Society of Vero Beach and Indian River County.Dion faces one charge of animal cruelty and has been released from the county jail on $500 bond.