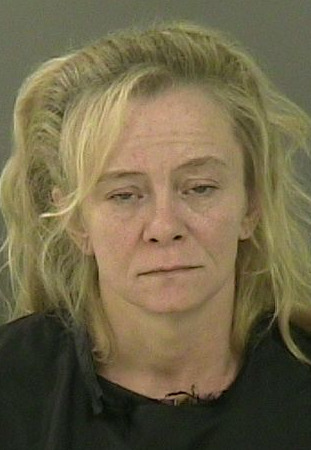 Staff Report
INDIAN RIVER COUNTY — Numerous law enforcement agencies, including the county's Multi-Agency Criminal Enforcement Unit and SWAT team, arrested two and are looking for another in connection to a drug bust on First Road, south of Vero Beach.
Officers arrested two women, Michelle Ann Justice, 38, and Ashley McCabe, 24, who both live at 2880 First Road. They are searching for a third suspect, 21-year-old James Frances McCabe.  
Justice faces a laundry list of charges that include oxycodone possession and sale, felony tampering to destroy evidence, and possession of drug paraphernalia, according to her arrest report. She is being held at the county jail on $55,000 bond.
According to her arrest affidavit, Justice was seen taking several crushed up blue pills and blue powder and putting them in her mouth as an officer came into the room. After being arrested, she told EMS personnel that she had taken four roxicodone pills when SWAT entered the home.
McCabe, who was renting a room at the house, faces a charge for renting with the purpose of trafficking a controlled substance, her report states.
The bust happened shortly before 5 p.m. Wednesday as the result of an lengthy investigation from several agencies, including the Drug Enforcement Agency, Crime Scene Unit and Uniform Patrol.
According to Sheriff's director and spokesman Jeff Luther, the following is what happened:
The Swat Team knocked several times with no response and it was known subjects were inside the house. SWAT was forced to breach the front door and secured six subjects inside the residence. It was determined that four of the people inside were not involved in the case and were later released.
The Multi-Agency Criminal Enforcement Unit recovered numerous pills, syringes, crack cocaine pipes, a scale and other assorted paraphernalia. All evidence was turned into the Crime Scene Unit for processing.
Justice and McCabe were arrested on scene. Authorities are still looking for James Frances McCabe, 21, of the same address as the other suspects.
James McCabe has a warrant for his arrest on a charge of possession of buprenorphine, which is a partial synthetic opiate.
Anyone knowing the location of McCabe is asked to contact the Indian River County Sheriff's Office by calling (772) 569-6700.