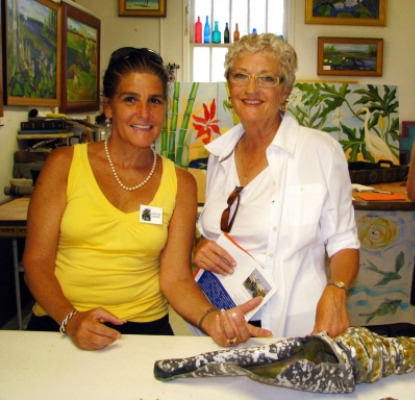 VERO BEACH — The recently formed Downtown Dine & Design District hosted an engaging Summer Sizzler Stroll Friday evening, with businesses, restaurants and galleries welcoming visitors offering up refreshments, music, raffle prizes and friendly smiles. 
(Read more to see slideshow from the event.) The district encompasses an area from the Southeast Gallery of Photographic Art and Beads on its northwest border of Route 60 and 15th Avenue, south to Sunside Fun Snowballs & Cajun Food on 14th Avenue and 18th Street and east to Loggia Home and Garden on Old Dixie Highway. As a steady stream of people meandered through the area, participants breathed a sigh of relief that threatening storms never materialized.
Main Street Vero Beach and the Cultural Council of Indian River County were the beneficiaries from ticket sales for the raffle prizes donated by the all the merchants.  Decorative Arts, Estillo Boutique and artist Patty Vaughn teamed up to provide the Environmental Learning Center's Fire Fund with a portion of proceeds from the evening.
Mark your calendars now for the Downtown Dine and Design Holiday Stroll, scheduled for Tuesday, Dec. 1.
{igallery 19}