Wind Ensemble performs for record crowd at annual concert
June 8, 2018 @ 7:00 pm

-

9:00 pm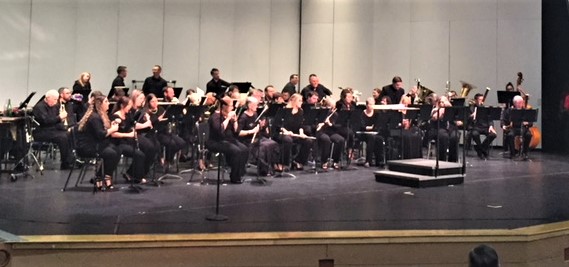 On Friday, June 8, the Treasure Coast Wind Ensemble performed their one-night-only annual concert to a record-breaking crowd of over 400 in the Vero Beach High School Performing Arts Center.
The highlight of the night was Homages Concerto for Piano and Winds, which featured piano virtuoso Jacob Craig. This exciting, rhythmically challenging piece written by Edward Gregson is one of a handful of musical arrangements written specifically for the piano and wind ensemble combination. Craig chose the piece for its folk rhythms and simply, he said, "because it's fun to play!" The choice in this particular music fueled the idea to create an all British program.
Gustav Holst's Second Suite in F for Military Band, Ralph Vaughan William's Toccata Marziale were performed by a group of over 50 talented musicians, coming to play from as far north as Northern Brevard County and as far south as Palm Beach. A smaller group performed Trevelyan Suite by Malcolm Arnold. The final piece of the evening was Sun Paints Rainbows on the Vast Waves by David Bedford. The picturesque, fourteen-minute long piece sounds exactly like its title. The percussion section used tuned wine bottles to create the sound of water droplets along with thunderous drumrolls to simulate thunder. The ensemble used different timbres to create an atmosphere of sound not unlike a rainstorm over an ocean. The entire performance was met with great applause and a standing ovation.
The Wind Ensemble consists of professional wind musicians, band directors, and college music students from throughout the Treasure Coast and beyond. The group meets in the spring of each year, having only five rehearsals before debuting their selections in a spectacular one-night-only engagement. This year's concert, entitled British Invasion, featured challenging wind band repertoire by British composers. Page Howell, director of the Wind Ensemble as well as Director of Bands at Vero Beach High School, was asked if the programmatic planning had anything to do with the High School Band's invitation to perform in the 2019 London New Year's Day parade. He said, "actually it was purely coincidental. This program was planned long before London was even a consideration. It just happened to work out that way."
"This is by far the biggest crowd we have ever had," said Howell, as he addressed the audience of over 400 during his closing remarks. He thanked many supporters and the musicians on stage for their hard work in putting the concert together. The entire purpose was, he said, "to give these musicians a chance to play for fun- something that band directors and professionals rarely get a chance to do." The sense of camaraderie on stage was apparent and many in the audience recognized how much this group enjoys playing together.
Treasure Coast Wind Ensemble is the only musical organization of its kind on the Treasure Coast. Founded in 2008, it is comprised of band directors, music teachers, freelance musicians, and student musicians from the Space Coast, Treasure Coast, and Palm Beach areas. The ensemble's goal is to perform an annual summer concert of all original wind music and provide a rewarding playing experience for the musicians. Music chosen for each concert spans several hundred years and is drawn from the chamber wind, brass ensemble, wind orchestra, and symphonic band repertoire.
For more information, please contact Page Howell, Founder and Conductor, at (772) 564-5413 or Page.Howell@indianriverschools.org.