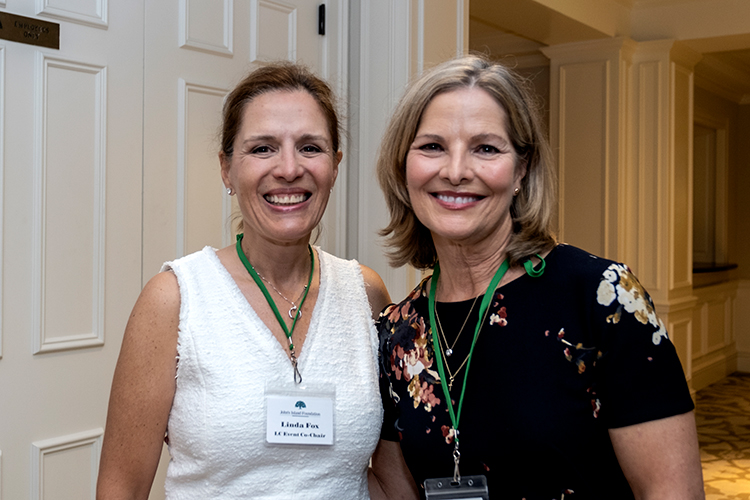 Members of the Leadership Circle of the John's Island Foundation, its top-level donors, enjoyed a delightful reception at the John's Island Golf Club, featuring champagne and French dishes prepared by Anthony Cole, the club's new executive chef, and his team.
In his welcoming remarks Don Blair, JIF board president, thanked the sponsors, chief among them John's Island Real Estate, Northern Trust Bank and Croom Construction, and recognized members of the JIF board, site teams and the event committee, led by Linda Fox and Betsy Smith.
"So finally, and most importantly, because this is the reason we're here, I want to thank all of you, the Leadership Circle donors to John's Island Foundation. Your generosity is amazing and it's what makes the work that we do possible," said Blair.
Despite the difficulties of the past few years, he said the Leadership Circle has continued to grow in number and its level of giving.
"We know that the measure of success is not just getting the dollars out the door. It's making a difference for less fortunate people in the community. And we will continue to do our homework to make sure that that's what happens," said Blair.
He said last season, JIF provided more than $1.1 million in grants to 26 agencies, an increase of 22 percent over the prior year, and that while most funders support operational expenses, their focus is on capital investments, funding the assets and infrastructure.
Last year's inaugural McCabe Leadership Grant was awarded to address our county's lack of affordable housing.
Francie Cramb, grant review vice president, said the $200,000 grant, the largest they've ever given, was awarded to the Coalition for Attainable Homes in a public/private partnership with the county, to build a triplex – three units of affordable housing.
Introducing Julianne Price and Louise Hubbard, the coalition's president and vice president, Cramb said, "It is through their hard work and tireless effort that the triplex was possible."
Hubbard has served as executive director of the Treasure Coast Homeless Services Council, and Price is the Indian River County Health Department environmental administrator and statewide PACE-EH (protocol for assessing community excellence and environmental health) coordinator.
Price said that 10 years ago "there was no one who was building structures to help people get into homes and off the streets."
To address the issue, they started a nonprofit and turned to the John's Island Foundation as the only funder of capital projects, and received a $25,000 grant toward construction of a duplex, followed the next year by $50,000, then the maximum award, and subsequent grants.
"If we hadn't received that initial funding, the first structure would never have been built. And we've kept building all these years because of your support. I cannot thank you enough for everything you do for us every year so that we can build these structures and help people who need housing," said Price.
Since last year's $200,000 grant, they have broken ground on the triplex, and the project is underway.
"Our current projects and our future subsequently depend on this population right here. Because up to now it's been extremely difficult to have the concept of community, local government and local philanthropy actually come together in a significant way," said Hubbard. "This is probably the most significant that I've ever seen in 20 years."
Most importantly, she said the project can be replicated because it is reasonable, cost effective and "makes sense."
"This last year especially has been overwhelmingly exciting to us because we have other things already in the hopper, already started, already going forward. And you give us the opportunity and the energy that it takes to put up with the limitations that appear on a regular basis," said Hubbard. "If you guys weren't here, we wouldn't be able to do it at all."
"Thank you again to all of you," said Blair. "As members of the Leadership Circle, I hope you are convinced you are making a positive difference in people's lives."
Photos by Joshua Kodis