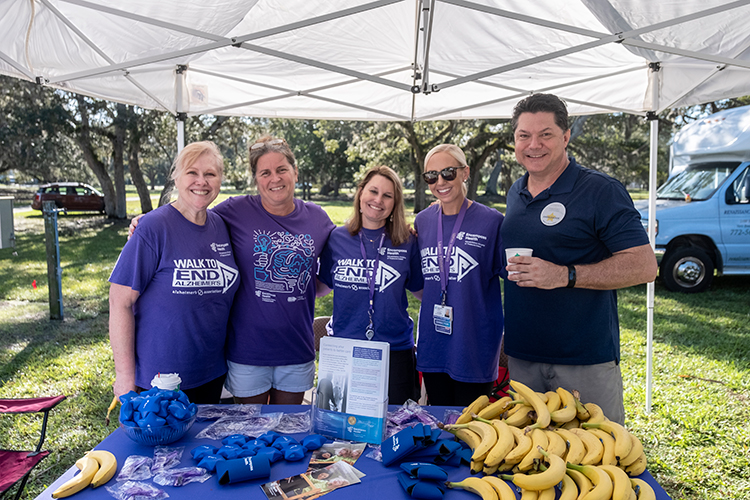 Participants in the 19th annual Walk to Remember would like everyone to recognize the impact that community support can have on families dealing with the effects of memory and movement disorders.
The recent fundraiser at Riverside Park was one of the largest turnouts for the event, which benefits the Alzheimer & Parkinson Association of Indian River County. Funds raised will support the programs and services – all of which are free – that the nonprofit offers to individuals and caregivers coping with neurodegenerative diseases.
"We are the only local comprehensive resource for families in Indian River County coping with disorders affecting memory and movement. That means 100 percent of dollars raised are spent in this community," said Peggy Cunningham, executive director.
For the past 40 years, the nonprofit has provided memory screening, social respite, memory programs, movement classes, support groups, virtual programs, activity kits, a resource library, education and dementia training.
Its Project Lifesaver program – a collaborative effort with the Alzheimer's Foundation of America, Indian River County Sheriff's Office and Treasure Coast Pilot Club – gives caregivers peace of mind by outfitting family members who have the potential to wander with personalized radio transmitters that can be tracked by local law enforcement.
After a flag presentation by the Sebastian River High School NJROTC color guard, Moreen Burkart sang the National Anthem. As the event took place the day after Veterans Day, Cunningham said it was a fitting tribute because many of the men and women who served our country now use their programs.
Afterward, John Sammartano helped everyone get warmed up for their walk, which included Veterans Memorial Island Sanctuary, along a path lined with statistics relating to these diseases.
The organization has raised more than $125,000 toward its $240,000 goal, with fundraising continuing through Dec. 31.
For more information, visit AlzPark.org.
Photos by Joshua Kodis