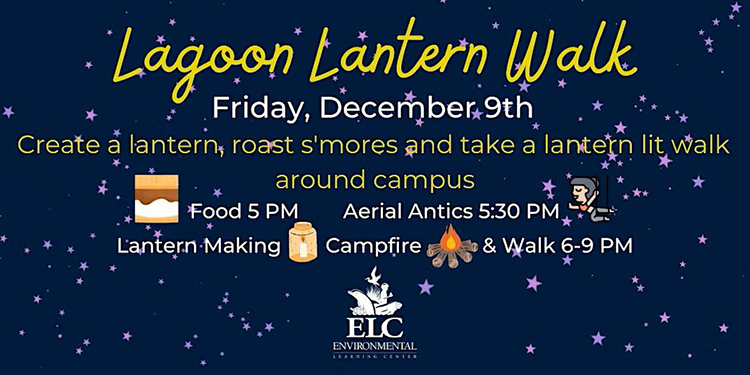 Florida's velvety evenings are a perfect backdrop for you to enjoy the outdoors. And nothing better than the Lagoon Lantern Walk, which runs in the evening on Friday, Dec. 9 at the Environmental Learning Center. The event includes lantern making, performances by Aerial Antics, a campfire with s'mores and guided walks through the ELC campus. The organization has had similar glowing evening events, but this is the first of this kind, says ELC environmental educator Meghan Carpenter. "This is much bigger and holiday-themed," she says. "People can come out and make a whole evening of it." The evening starts with food service at 5 p.m. when the Treasure Coast Girls Coalition will be selling hot dogs, hamburgers, French fries and vegetarian options along with soft drinks and water. Beginning at 5:30 p.m. Aerial Antics will present a half hour excerpt from one of their popular productions. After that, guests are invited to gather round the bonfire to make s'mores. They'll certainly want to head to the lantern section, where you'll make your own lantern of tissue paper and made bright with battery powered lights. "People can design and do whatever color theme they want to with their lantern," Carpenter says. "A couple layers of tissue paper provides a nice color the light can shine through." Then, take those lanterns along one of the guided walks around the ELC campus. The guides will talk about the different nocturnal animals in the area. You might see sudden bright eyes of raccoons or possums beneath some scrub. While nocturnal animals are usually "more skittish" and perhaps will not make themselves readily available for viewing, the guides will also bring along black lights to shine upon lichen growing on the trees. "That glows under black light," Carpenter says. It should be fun. The event has two different packages you can buy: $20 will get you one lantern and two s'mores; $35 will get you two lanterns and four s'mores. Additional s'mores cost $5; additional lanterns cost $15. Lagoon Lantern Walk begins at 5 p.m. at the Environmental Learning Center, 255 Live Oak Dr., Vero Beach. Pre-registration required. Space is limited, so best to get your tickets now by heading to DiscoverELC.org. If you want more information, call 722-589-5050.
Those who missed all those Black Friday and Cyber Monday offers, cheer up. The Holiday Shopping Fair takes place this weekend in Riverside Park. Hosted by the Vero Beach Chamber of Commerce, the two-day event will bring in area businesses and crafters into the sweet surrounds of Riverside Park. In addition to finding the perfect gift, visitors will also enjoy food, wine and beer, and entertainment. It's all presented in a relaxed atmosphere. "It's not intense, like Black Friday," said Debbie Avery, president of the Vero Beach Chamber of Commerce. "It's a lot of fun for (those) who like to get out and shop. It's right before the holidays so it's a good time." The Holiday Shopping Fair runs 9 a.m. to 5 p.m. Saturday, Dec. 10, and 9 a.m. to 4 p.m. Sunday, Dec. 11. Admission is free. For more information, call 772-226-5459.
Learn more about the Swedish celebration when the Indian River County Historical Society presents two events this weekend. First is the Holiday Fika, which includes Swedish Coffee, tea and small bites followed by a tour of the Hallstrom House where visitors will see small Christmas trees adorned by Swedish ornaments. The cost for the Holiday Fika is $15. It runs 2 p.m. to 3:30 p.m. Saturday, Dec. 10. Then, on Sunday, the IRCHS presents its 9th annual St. Lucia's Day Festival of Lights. The event features a local Swedish family performing a candlelight procession in which young ladies, dressed in white dresses with red sashes, balance crowns of candles on their heads. The crowns are made of evergreen Lingonberry branches, which symbolize new life in winter. St. Lucia's Day was first celebrated in Sweden in the late 18th century and commemorates the martyr St. Lucia and the monks who brought Christianity to Sweden. Now, the day is also celebrated in Denmark, Norway, Bosnia and Croatia. The candlelight procession will be followed by a tree lighting ceremony and Swedish holiday refreshments. St. Lucia's Day Festival of Lights runs 2 p.m. to 4 p.m. Sunday, Dec. 11, and includes pastries and coffee. Reservations required. Admission is a canned good which will be donated to the Food Bank of Indian River County. The Hallstrom House Farmstead is at 1723 Old Dixie Highway SW, Vero Beach. For more information, call 772-778-3435 or visit IRCHistorical.org.
Those willing to take a small road trip south can plan ahead for the PSL In Lights Party, scheduled for Dec. 16 outdoors at the MIDFLORIDA Credit Union Event Center in Port St. Lucie. The free event includes a dazzling light display, a visit from Santa Claus, children's crafts and activities. There will be hot cocoa, cookies, candy canes, music by Gary Palmer, the PSL Orchestra Brass Quintet, Elvis impersonator Keith "King" Gipson, and performances by the Preston Contemporary Dance Company. If you want more than snacks, then head to the food trucks where you can purchase gourmet waffles, paninis, coffee, ice cream, and island-style barbecue. The event also includes a Festive Pet Costume Contest and parade, so be sure to dress up your friendly family pet for the holidays. Register your pets at 6 p.m. The contest begins 9:30 p.m. Prizes to be won. The PSL In Lights Party runs 6 p.m. to 9 p.m. on Dec. 16 at the MIDFLORIDA Credit Union Event Center, 9221 SE Event Center Place, Port St. Lucie. For more information, visit CityOfPSL.com/PSLinLights.