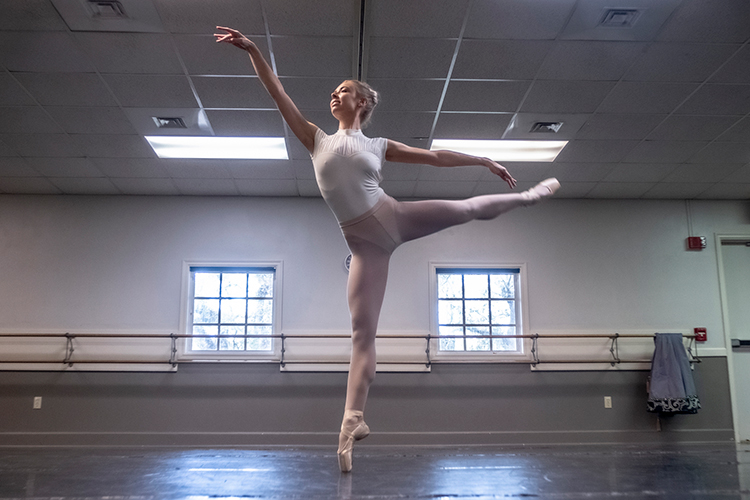 As Ballet Vero Beach heads into its 10th Anniversary Season, Adam Schnell, founding artistic director and CEO, says he is both surprised and excited about their remarkable success.
"I mean, starting an arts organization is tough, let alone a ballet company in a small town, and we want to celebrate making it to this point. The truth of it is, we really did start at absolute zero," says Schnell, crediting Camilo Rodriguez, BVB ballet master, with the idea.
Schnell is also Riverside Theatre's director of dance education, and in 2013, to test the waters, he proposed adding a professional ballet performance to the annual Riverside Dance Festival, held each August. Based on the positive response, they forged ahead and in April 2014 had a full-fledged 'reveal' performance.
In year five BVB added "Nutcracker on the Indian River," which Schnell calls a pivotal moment.
A partnership with the Indian River Land Trust helped the ballet to highlight the Indian River Lagoon and its wildlife. And so that children from underserved elementary schools could take part in the ballet, they rehearsed students at the schools before having them join professionals on stage.
Next, Lucinda Gedeon, then CEO of the Vero Beach Museum of Art, connected them with the Learning Alliance, resulting in a Stage to Page program that uses dance in schools to improve literacy skills.
Over time, BVB increased its resident dancers. Rodriguez was joined by Katherine Eppink and Anders Southerland and, most recently, Alyssa Donley. Performances have also been augmented by dancers from other ballet companies, initially the American Midwest Ballet, and in 2019 with Dimensions Dance Theater of Miami.
Schnell says he is pleased with the relationships that have developed between dancers and audiences.
"Whether the artists live here full time or whether we're bringing them in consistently, whether it's a dancer or choreographer or composer, the audience really gets a deeper understanding of who that person is."
This fall, BVB debuted a Fellowship Initiative in partnership with Indian River State College and the Learning Alliance, which Schnell says is working out exceptionally well. The program blends dance at BVB with educational classes at IRSC, and arts literacy and teaching with the Learning Alliance.
"The two fellows that have joined us immediately made the atmosphere in the studio even better than it was before," he says, referencing Lindsey Kader and Abriella Mauldin.
"I have nothing but good things to say about these two young women. They are eager, they work incredibly hard, they seem to get it both emotionally and physically. We haven't even done a performance with them yet, and already they have exceeded my expectations. They just bring energy everywhere they go," says Schnell.
"So now we have seven of us in the room. All of a sudden, we've almost doubled our size. It's things like that that don't seem significant, but it totally changes the energy, and it totally changes how many people are out there in the community talking about what we do and even just being exposed to the community."
Of the upcoming season, Schnell says, "we are celebrating some choreographers that have had a huge impact on our [BVB] history, but also a bigger impact in the dance world."
In January, Tastemakers includes two works, "Ori" and "Rust," by Ariel Grossman, founder of the all-female contemporary company Ariel Rivka Dance, which performed here in 2017, and the West Side Story Suite, by French choreographer Yves de Bouteiller.
"Some of our most successful programs are when we get to expose people to artists like Yves and Ariel," says Schnell. "And then in February, we are paying homage to a company who, in my opinion, if it never existed, we wouldn't have ballet like we have it today, which is the Ballets Russes.
"We're doing a program called Beyond the Ballets Russes; taking that company as a jumping off point, but saying, 'where has dance gone since then?'"
The first piece is "Sylvia Pas de Deux," choreographed by Russian-born George Balanchine, founder of the New York City Ballet, which Schnell calls a charming duet with beautiful classical dancing that not enough companies perform.
That program also features a world premiere of a piece Schnell is choreographing to Maurice Ravel's "Bolero."
"We wouldn't have that score if it weren't for a now almost forgotten dancer from the Ballets Russes, Ida Rubenstein. So, I'm trying to pay homage to her with my piece of choreography."
The third dance, another premiere, is a modernization of Igor Stravinsky's "Firebird," first performed by the Ballets Russes in 1910. Schnell says a composer friend has modernized the music and Rodriguez has updated the choreography, setting it on a school playground and in the fantasy world of the Firebirds.
"So the teacher becomes the Firebird, the bully becomes the sorcerer," he explains.
BVB will also perform a student matinee of "Firebird" for all local third-graders and will build their literacy curriculum around it. Additionally, there will again be a matinee of "Sleeping Princess" for first-graders.
"The Ballets Russes was just revolutionary, the way they paired composers and designers and choreographers and great dancers. We're showing that we've been doing our own scale of that all along, in a way that's exciting for the audiences," he says.
The season closes in April with Choreographer's Notebook: Samuel Kurkjian, featuring performances of "Debussy Suite," "German Dances" and "Chopin Variations."
"April is really, to me, the sort of crowning moment of the season in that we are finally able to present three works that we have by Samuel Kurkjian," says Schnell, adding that Kurkjian had influenced his own choreography.
In addition to the mainstage productions and student matinees, they perform hour-long, accessible/family-friendly Sunday matinees modified for the differently abled and young children, they frequently dance special performances, and they offer online archival film access.
"There are so many layers. It really is taking everything we've been doing and turning up the volume a little bit so that we can really push forward into our second decade."
Thanks to the dancers, donations, grants and the support of the school district and the community, the dynamic is quite different from the early days of BVB.
"That's what keeps me going now. I don't know how to express my gratitude enough. When I go on stage and I say, 'We really are your ballet company,' I am thanking everyone that has supported us along the way," says Schnell.
"Every $10 donation has gotten us here. Every person who decided to come to a show has gotten us here. And I do not take the responsibility that has been bestowed on us lightly. We have a platform and we're going to use it for at least another decade, I hope."
Performances take place at the Vero Beach High School Performing Arts Center. For more information, visit BalletVeroBeach.org.
Photos by Joshua Kodis