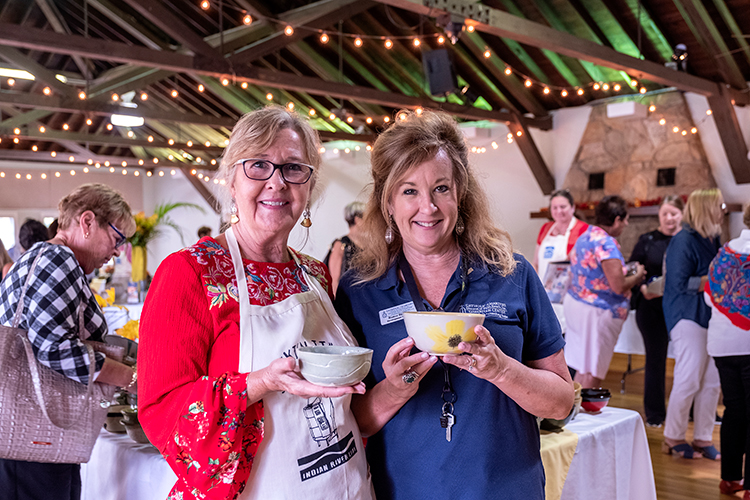 The Heritage Center was abuzz with activity during the 30th annual Soup Bowl fundraiser to benefit the Catholic Charities' Samaritan Center in Vero Beach.
Once again, more than 1,200 soup bowls of various shapes and sizes had been either hand-built or wheel-thrown before being glazed in myriad colors and designs. They were all crafted by local volunteer potters, the majority of them members of Indian River Clay, a nonprofit founded to teach and develop pottery skills.
"We've put another spin on it again this year; we're bringing back the soup," said Renee Bireley, Samaritan Center development manager, referring to the soup's temporary halt due to the pandemic.
"We have more than 23 locations that are participating, and over 20 of them are serving soup," said Bireley, noting that the Heritage Center was the only location offering bowls.
She explained that while local restaurants had donated soup in years past, they were not asked to do so this time, understanding that many were still struggling with costs and labor. Instead, 12 country clubs donated the soup which, at the Heritage Center, was offered in soup-to-go quart containers.
The bowls, and the talents of the potters, were again displayed on long tables all throughout the building, and most shoppers made several trips around the room, perusing the vast assortment before selecting their favorites. Numerous volunteers were on hand to assist – handing out shopping baskets, collecting contributions, and carefully wrapping and bagging the goodies.
"One of my favorite things about this event, in addition to bringing in so many community partners, is it gives people the opportunity to find the bowl that speaks to them. And then all year round, it can serve as a reminder of the important work of our Samaritan Center," said Ellen Wayne, CEO of Catholic Charities for the Diocese of Palm Beach.
"Our team tries to support each other internally as well. So we have staff from all of our programs who are trying to make their way here today to be able to purchase a bowl," said Wayne. "Because we all know collectively, with the ecumenical support and the support of our partners, this is just a great community initiative."
Commenting that housing is a significant issue all across their diocese, she added, "With the Samaritan Center, we know that we have a key resource that helps us break that cycle of homelessness and poverty for families. If I could replicate this all over I would do so, because it's that good of a program and that important of a program. It allows us to really respond to families in need and we do that in part because of the support and revenue that we receive as a result of this project."
The Samaritan Center provides homeless families in Indian River County with transitional housing and guidance to prepare them for independent living. Proceeds from fundraisers such as the Soup Bowl, along with private donations and grants, support its operating expenses.
Photos by Joshua Kodis