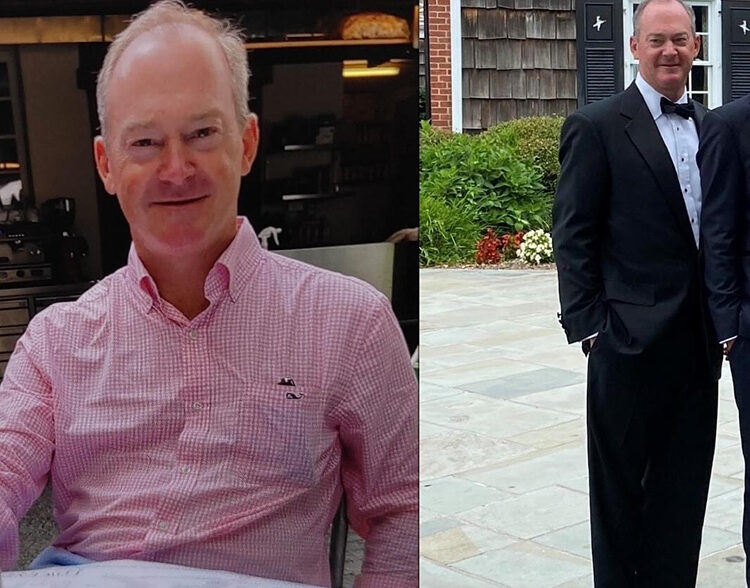 Maybe we were naïve in hoping this missing-person story would end any other way.
The missing person, after all, was a 58-year-old, happily married husband and father whose success as a Wilmington Trust wealth-management advisor in New York prompted a May 2021 promotion that brought him to Vero Beach, where he purchased a home on Flamevine Lane, east of A1A.
And the circumstances surrounding Robert S. Bridges Jr.'s sudden disappearance two Mondays ago were as curious as they were puzzling.
He didn't show up for his scheduled golf game at noon. His car was in the garage. His cell phone was in the house, but he and his bicycle were gone.
No one had seen him since 10:45 that morning.
We knew all this because Bridges' wife and son gave an interview to a television news crew following up on a press release issued by the Vero Beach Police Department, which sought the community's assistance in finding him.
But that's all we knew.
We didn't know what Bridges' wife, Kelly, who teaches at St. Edward's School, had told the police about her husband when filing a missing-person's report:
That he had been "very stressed about his job. . ."
That he had been "eating very little and experiencing severe sleep issues for several weeks."
That he was "pacing back and forth" and talked about killing himself the night before he disappeared.
Nor did we know that Bridges' wife was "crying hysterically" when the responding officer arrived at her home.
We didn't know because none of that information was made available until after police discovered Bridges' lifeless body in the mangroves beneath the Barber Bridge last Thursday morning.
It wasn't until the next afternoon – after an autopsy was performed – that the police issued an updated statement, telling us the Medical Examiner's Office ruled Bridges' death a suicide.
That's also when the police, in response to a public-records request, released the case report, which provided the backdrop to Bridges' disappearance and specifics about how, where and in what condition his body was discovered by officers on a bike patrol.
There's no need to get into the grisly details, but, reached by phone Saturday, Vero Beach Police Chief David Currey confirmed that Bridges jumped from the bridge.
The precise cause of death was still unknown, Currey said, "but he sustained injuries when he jumped." He said that Bridges' bicycle had not been found.
Apparently, Bridges did not leave a note.
"As far as I know, he didn't, but not everyone does," Currey said, adding, "It's very sad that someone with a wife and family would become so distraught that they would take their own life."
It's more than sad – it's tragic.
It doesn't matter that Bridges and his wife were new to Vero Beach and, according to the case report, "did not have a substantial relationship with any of their neighbors."
It certainly didn't matter to our community, which rallied to the call for help – first from the police, then from Bridges' family – by posting flyers, participating in searches and sharing the news of a neighbor's disappearance on social-media platforms.
At least one local couple provided a drone that was used to enhance the search.
We can only hope Bridges' wife and family, as they grieve such a terrible loss, take some comfort in knowing so many of the good people of Vero Beach cared.
Most of these people knew nothing of Bridges' mental and emotional state when he disappeared.
They didn't know if he had suffered a medical emergency, been injured in an accident or fell victim to foul play. They didn't know what would happen.
All they knew was someone was missing and, possibly, in trouble – and they were there.
"The family thanked us numerous times," Currey said, referring to his department, "and I'm sure they appreciate what was done by the people in our community."
Newspapers don't usually write about suicides, unless there's a compelling reason to do so – as there was when David Dangerfield, a battalion chief and rescue diver for the county's Fire Rescue Division, shot himself after struggling with the effects of post-traumatic stress syndrome eight years ago.
Dangerfield wanted his story to be told so other first responders might get the help they need before they suffer the same fate.
We don't know what Bridges wanted. All we know is what we were told by his wife in a police report, which describes a torment he could no longer endure. But maybe we can learn from it.
Maybe we need to be quicker to recognize when someone – a family member, friend or neighbor – is being haunted by their inner demons and feeling so overwhelmed by life's challenges that they're looking for a way out.
Or maybe you're the one in trouble, teetering on the edge, and need to talk to someone.
Help is available locally (Dial 211) and nationally (Dial 988) through suicide prevention hotlines that offer crisis counseling.
The hard truth is: Missing-person stories too often end the wrong way.
Let's not be naïve.