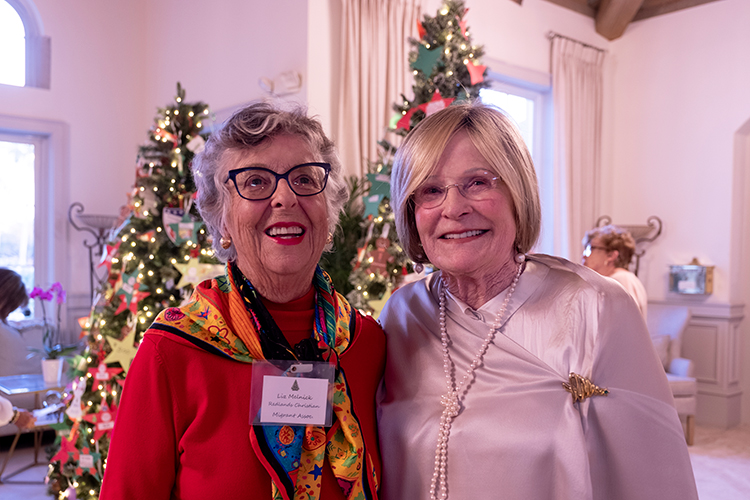 It was 'beginning to feel a lot like Christmas' as members of the Grand Harbor Community Outreach Program unwrapped another year of generosity during their annual Evening of Giving at the Grand Harbor Golf Club.
Event chair Theresa Kelso said it all began 22 years ago when a group of ladies put together and sold cookbooks as Grand Harbor's first charity fundraiser, and it evolved from there.
She said the Outreach Program came from the realization that there was a vast dichotomy in our community between those who have a stable, financial income and those who do not.
"We wanted to reach out to the community to help," Kelso explained.
More than 200 guests enjoyed delicious food, engaging conversation, lively entertainment and a silent auction. And a performance by the First Presbyterian Children's Choir was a big hit, one that really knocked everyone's Santa hats off.
This year the event was opened to non-club members, something Kelso said they plan to continue to make it more of a community event.
As guests milled around Christmas trees decorated with 'wishes' from 16 local nonprofits and their clients, they selected the ones they wished to fulfill. The wishes ranged from monetary donations to specific items, such as blankets for babies, toys, clothing and educational materials.
"This is specifically for the holidays and must be used directly for the clients. We want nonprofits to be able to do something special for their clients. To provide some cheer over the holidays," said Kelso.
Each of the featured nonprofits will receive monetary donations above their requests, and the remaining proceeds will be placed in reserve to augment the grants they give out each year.
"For the last two years, we have reached the goal of fulfilling all the agency's needs, and we've had a reserve," shared Kelso, noting that fundraising will run through Dec. 5.
The selected nonprofits were previously vetted through the grant process, and Kelso said the board opted this year to focus on children, understanding that addressing issues at an early age can prevent problems from arising down the road.
To help further Grand Harbor's impact on the community, Dr. Jack Norris designed a Grand Harbor Volunteers website as a way to support Indian River County as a whole. Norris said that through his work with the Outreach Program, he became aware that many local nonprofits in the county have a client waitlist due to a lack of volunteers to mentor, tutor or provide other services.
The website was launched in October so that Grand Harbor residents looking to volunteer could search for specific opportunities that best fit their skill sets.
For more information about the Outreach Program, which seeks to address unmet needs in the areas of health, education, and human services, visit GHCOP.org. For information about Grand Harbor Volunteers, visit GHVolunteers.com.
Photos by Joshua Kodis