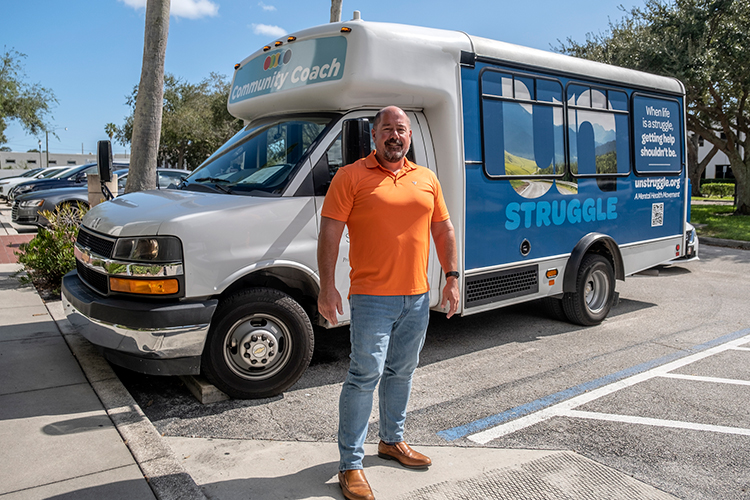 A coalition of agencies and individuals launched "Unstruggle" in October, a program aimed at increasing awareness and treatment of mental health problems in Indian River County.
The rate of hospitalizations due to mental health is 44 percent higher in Indian River County than the state average and suicides are 11 percent higher, according to Brett Hall, executive director of the Mental Health Collaborative of Indian River County. Alarmingly, the rate of mood/depressive disorders for young people is a full 50 percent higher than the state average.
"Our 'Unstruggle' campaign is designed to help residents see a path forward in which they don't need to struggle with mental health challenges," said Hall. "Through community support and professional help, their struggles can be addressed. We strive to erase those stigmas and normalize the fact that we all struggle with something."
At a launch reception attended by some 100 mental health professionals and advocates the keynote speaker was Ian Adair, "a nonprofit industry influencer, TEDx speaker, and advocate concerning mental health awareness and mental health in the workplace," according to his online bio.
"Normally, one in five people will experience a mental health problem in their lifetime," Adair said. "But the rate since the pandemic has nearly doubled.
"The problem is that we never talk about it for fear of losing our jobs or being judged by others" added Adair, author of the 2020 book "Stronger than Stigma: A Call to Action."
"On top of that, the media [usually] only talks about the mental health crisis when there is a traumatic event like a mass shooting or a celebrity suicide. We have to get people talking about it and eliminate the stigma."
The Unstruggle campaign is the latest in a series of community efforts to provide more and better assistance to people suffering from mental illness in Indian River County.
A community coach bus wrapped with the Unstruggle slogan "When life is a struggle – getting help shouldn't be" is traversing the county as a mobile billboard creating awareness about mental healthcare availability. Soon the message will be broadcast on radio and delivered in print.
Mental health advocates in Indian River County will act as 'Unstruggle' ambassadors who will help publicize the program in churches, schools, community groups and social media. They will also direct residents to local providers and programs and to the McCabe Connections Center, a central access point for supporting the mental health needs of the county, which was created by a woman who lost her son to suicide.
The McCabe Connections Center was launched in 2017 by the Mental Health Collaborative of Indian River County as a one-stop place for those experiencing difficulties gaining access to mental health and substance abuse services. The Connections staff assists those struggling with mental health or substance disorders, and provides referrals to community mental health and substance abuse providers best suited to meet their needs.
By streamlining and simplifying the screening process they eliminate barriers and get people help more quickly. Their goal is to obtain appointments on behalf of each individual within five days in order to deal with current suffering and lessen the risk of future distress. They also do timely follow-ups to ensure a positive outcome. Insurance is not required nor is there a fee for the service.
The Mental Health Collaborative is a nonprofit organization, established in 2004, whose mission is to establish a continuum of care for mental health made up of private and public funders, mental health providers and others who work in collaboration to increase access, decrease duplication, and facilitate community-wide support for mental health solutions.
The organization was birthed from tragedy, when the eldest son of local philanthropist Eleonora McCabe committed suicide after struggling with mental illness. While she couldn't change her son's fate or the cloud of grief that engulfed her family, she found solace through her philanthropy and set about helping others in similar situations. She focused on learning about mental health and became a champion for changing outdated opinions and treatment.
McCabe was president of the Robert F. and Eleonora W. McCabe Foundation, which funded many nonprofit organizations, and was widely recognized for her charitable giving. Her greatest gift, however, was her ability to unify community leaders and philanthropists in a mutual purpose to improve life in her beloved Indian River County.
She rallied local leaders including law enforcement officials, healthcare and elected officials, and United Way representatives to discuss the flaws of mental health care in the community. She convinced the group to join her in forming the Mental Health Collaborative of Indian River County to work toward the common goal of erasing the stigma of mental illness and providing easy access to mental health treatment. The Collaborative's flagship project was establishing the McCabe Connections Center.
19th Judicial Court Judge Cynthia Cox has been involved with the Mental Health Collaborative from the very beginning. As a family court judge, she is acutely aware of the need for easier access to mental health help.
"About 90 percent of our court cases involve some degree of mental health instability," she said.
"Back in 2015, Sheriff Daryl Loar and I spearheaded a subcommittee of the Mental Health Collaborative that paved the way for Mental Health Court in Indian River County.
"The Mental Health Collaboration has been instrumental in getting people the services they need to keep them out of the justice system.
"We all struggle with our mental health at some point in time and that's what this 'Unstruggle' campaign is all about," Cox continued. "By destigmatizing mental illness and educating the public about the services available in the community, we hope more people will seek the help they need so they no longer have to live with their pain."
For more information, call 772-217-3663 or visit www.unstruggle.org or www.mhcollaborative.org.