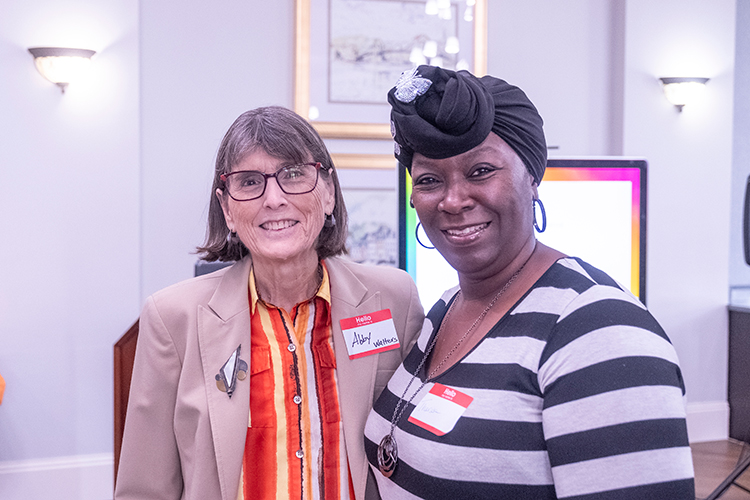 The Senior Collaborative of Indian River County recently hosted its first annual Members Awards Luncheon at Regency Park Independent Living, event sponsor with the Senior Resource Association and Indian River Home Care. In addition to the presentation of Community Champions awards, guests learned about successful age-friendly communities from guest speaker Laura Cantwell, associate director of AARP Florida, Livable Communities.
Caldwell said that by 2034 there will be more people over 65 nationwide than under 18 for the first time ever. As a result, she said, it is important to ensure that communities are designed to work with people of all ages.
"We've been doing that through a program called AARP Network of Age Friendly Communities, which is a five-year process, and it starts with first going to the community," said Cantwell.
The process involves determining what is working and what can be done better, planning and implementing programs to better the community for all ages and, at the end of the five-year process, reviewing it to ascertain what improvements might be needed.
She explained that the Livable Communities initiative engages through the built environment, which includes areas such as housing, public spaces and transportation, and the social environment, looking at civic participation and social respect, communication, engagement and healthcare, and she provided examples of successful initiatives in other Florida communities.
Cantwell congratulated Indian River County for completing an action plan that is focused on health, housing, financial security and communication.
"What's just incredible to me is that you launched right before COVID, but this did not stop your momentum at all. It's something that we have talked nationally about, as a model for how during COVID, Treasure Coast Community Health provided surveys at vaccination locations," said Cantwell, noting that more surveys were collected here than anywhere else.
"I want to say a big congratulations to Indian River County. Your action plan is really going to be a leader in Florida and especially the way that community is centered to this work. It's really exciting to see," said Cantwell.
Randy Riley, Senior Collaborative executive director, and Beth Mitchell, outgoing board chair, presented seven Community Champion Awards.
Riley said awards were: "For unselfish service and tireless work ensuring the safety and protection of the seniors of Indian River County Florida during the COVID-19 pandemic. The dedication and concern for the senior population undoubtedly saved lives and provided lifesaving vaccines, healthcare, food assistance, transportation and other services to the most vulnerable population in Indian River County."
The awards were presented to representatives of: Cleveland Clinic Indian River Hospital, the Indian River County Board of County Commissioners and county staff, Treasure Coast Community Health, the Senior Resource Association, Whole Family Health Center, the United Way of Indian River County, and the Indian River County Health Department.
Additionally, Riley presented the Volunteer of the Year award to Senior Collaborative board secretary Abby Walters, saying: "For the last four years, she has just been instrumental in doing every facet of our age friendly work."
Established in 2018, the Senior Collaborative of Indian River County links older residents, their families and caregivers to resources, and serves as the lead agency for Indian River County's Age-Friendly designation with Livable Indian River. An action plan created by the nonprofit to address housing, health, communications and financial assistance/employment issues was approved by county commissioners Sept. 20 and will be released in November.
In addition to its Livable Community program, the Senior Collaborative offers a Navigation Program to connect people to more than 550 for-profit and nonprofit providers in areas including: Housing; Transportation; Food and Meals; Community and Government Agencies; Financial Assistance, Counseling and Employment; Education, Social and Spiritual; Health and Medical; Arts and Entertainment; and Parks and Recreation.
On March 23, 2023, they will host a Senior Expo from 9 a.m. to 2 p.m. at the Indian River County Fairgrounds.
For more information or to search services, visit SeniorServicesIRC.org or call 772-469-2270.
Photos by Joshua Kodis