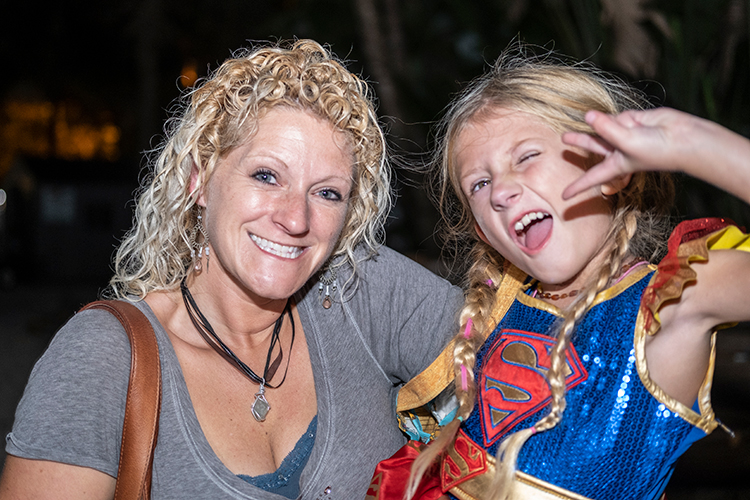 Rock City Gardens, known for its beauty and serenity, took on a whole new look the Saturday and Sunday before Halloween with its inaugural Haunted Gardens, complete with zombies, ghouls, witches, skeletons and all variety of things that go bump in the night.
Tyler Knief, a project manager at Rock City and a self-professed Halloween enthusiast, said he had been approached by Anna and Stan Tassev, who took ownership earlier this year from Tom and Rhonda Lowe.
"They came to me out of the blue, because they know that I do Halloween at my house, and asked me if I would do it," said Knief. "I had a good old time putting it all together."
While planning began in September, he said they set it all up that Saturday.
"We got here first thing in the morning. I had some volunteers that came in and helped us organize all this stuff and get it put out as fast as possible. We were finishing up right to the start of the event; we were hustling," said Knief, whose costume was that of a clown ringmaster running the circus.
Little ones were given bags at the entrance and amassed candy at six Trick-or-Treat stations scattered about the property.
"We bought a boat load of candy and ended up having to go back out later in the evening to get more because we went through it," said Knief.
Additionally, two stations offered a Witches Brew Punch, courtesy of Twisted Pickle, and a Headless Horseman drove brave souls on a hayride around the spooktacular 7-acre garden.
To supplement staff volunteers, they enlisted help from Charter High School students who really got into the spirit of things, such as a man "trapped" inside a greenhouse who loudly banged and rattled the door, screaming to get out.
"He went above and beyond what I was expecting; he was awesome. With a lot of the stuff, they just kind of ad-libbed. I had people that were just supposed to stand around and do things, but they took it to the next level and brought the scare factor out," said Knief.
"I try to play off of everybody's fears and phobias. Everybody's got a little something. So I was trying to throw a little bit of everything in there."
He estimated that at least 500 people went through on Saturday and roughly half that the second night.
"It was an awesome turnout. I think word of mouth will get out and then next year is going to be that much better. I mean, it was a little scary in some spots for little kids, but what we did here is not something that you have in this area," said Knief.
"There were a lot of things that we didn't do but we've got a great starting point. We're going to build on it to make it bigger and better next year."
Photos by Joshua Kodis