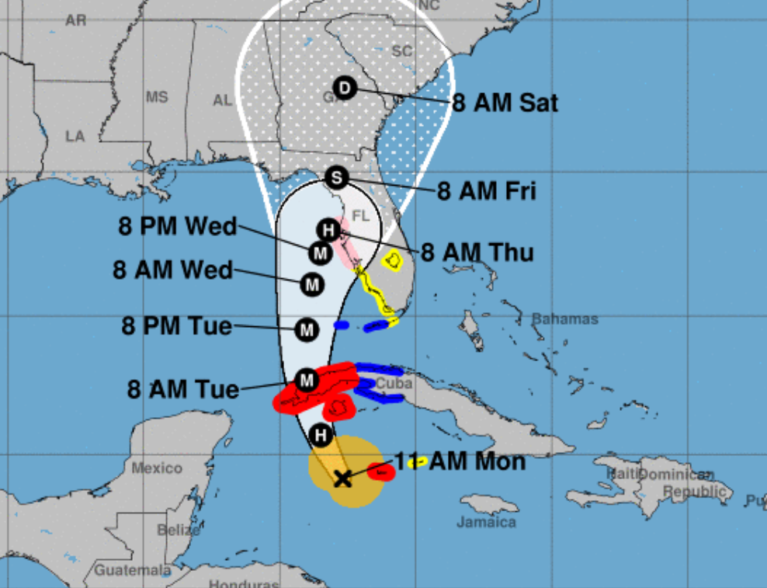 Ian strengthened into a hurricane with 80 mph maximum sustained winds early Monday, according to the National Hurricane Center. Ian was expected to hit Florida's Gulf Coast as a major hurricane on Tuesday and Wednesday.
As of Monday, Indian River County was not in Ian's projected path. Earlier, Gov. Ron DeSantis placed all 67 Florida counties under a state of emergency as the hurricane's exact path was still unclear.
Indian River County government officials declared a local state of emergency on Monday.
"This gives us a more streamlined process to access state resources if we need them," Indian River County Legislative Affairs and Communications Manager Kathy Copeland said. "All of our municipalities in Indian River County are coordinating together."
Governor DeSantis Delivers Update on Hurricane Ian https://t.co/pd4UKjeXwq

— Ron DeSantis (@GovRonDeSantis) September 26, 2022
Ian was listed as a Category 1 hurricane on Monday, according to forecasters. The storm would need to grow to at least 111 mph maximum sustained winds to become a major hurricane, weather officials said.
"We are carefully monitoring the track of Hurricane Ian. Our Emergency Operations Center is currently at a Level 2 activation to coordinate with our national, state and regional partners," Copeland said.
"We will continue to provide updates throughout the day. The Citizen Hotline is active. If residents or visitors have storm related questions, please call 772-226-4000."
Indian River County's Emergency Information Center (EIC) is opening today in preparation for Hurricane Ian. Residents are encouraged to call the EIC if they have any storm related questions. The EIC phone number is, 772-226-4000.

Please remember, in an emergency call 911! pic.twitter.com/in4pXL03K5

— Indian River EOC (@IndianRiverEOC) September 26, 2022
There was an 80-to-90 percent chance of storms Monday and Tuesday for the Vero Beach area, according to the National Weather Service in Melbourne. Both days will have daily temperatures in the mid-to-high 80s, which will dip to 74 degrees at night.
The heat index values for Monday will be as high as 102 degrees, forecasters said.
Tropical storm conditions were possible for Wednesday, Thursday and Friday. A tropical storm has wind speeds between 39 mph and 73 mph, according to the National Hurricane Center.
This story will be updated.