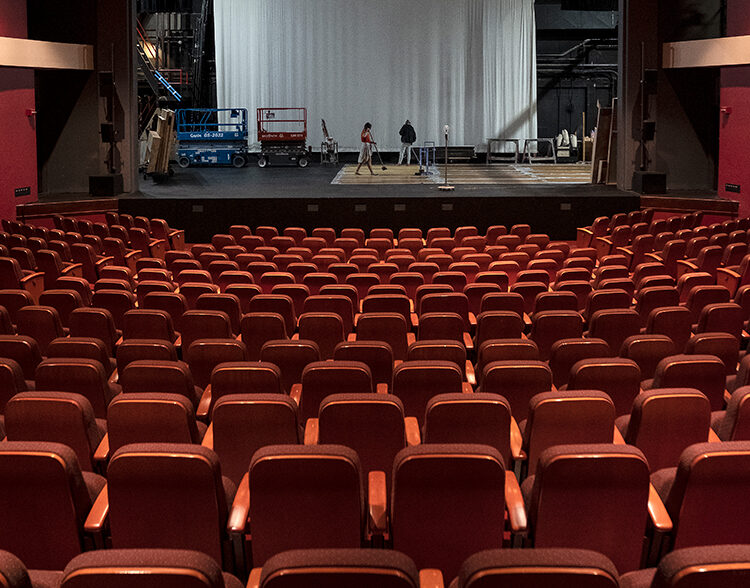 It's coming back. After that nasty virus interrupted two consecutive seasons, Riverside Theatre has a meaningful and rousing season planned, and just in time to celebrate its 50th anniversary.
"I think everybody wants to get back into the rhythm of things," said Allen D. Cornell, Riverside's producing artistic director and CEO. "We're part of that for a lot of people."
Yes, there's a lot of excitement right now at Riverside. But, nevertheless, there is also a tinge of "cross your fingers" worry. Cornell says the theater is "still trying to navigate the way through this."
To do so, they have implemented a smart strategy to keep the "curtain" up by stretching out the season.
As a result of its remarkable growth over the past five decades, Riverside is now a very busy theater. Pre-pandemic, there might have been one show being performed on the 692-seat Stark Stage while another was in rehearsal. Sometimes there might even be a third cast in rehearsal or in performance in the 250-seat Waxlax Stage.
Add to that the musicians, backstage staff building scenery or working on lighting, costumers, front-of-house and administrative employees, and the list goes on. It's no wonder that with all those people, Riverside had to twice shut its season down early due to the pandemic. It was both unprecedented and unexpected.
"It was a shock, you are stunned," says Heidi Waxlax, president of Riverside's board of directors.
"The first time was when we were into 'La Cage (aux Folles)'. And that was an absolutely good show."
The same bad news came the next season, when, Waxlax recalls, they had just opened "Carousel."
"We were in it a week and it was a Sunday night. I got a phone call from Allen (Cornell). He said, 'Can you come to the theater tomorrow morning?' I knew what it was. It's almost like someone hit you in the head. All the work that went into it, actors, costumes, scenery. Half a year and more of work."
But unlike community theaters, which could make adjustments to stay open, Riverside had no choice but to shut down.
Riverside casts professional performers belonging to Actor's Equity Association, the union of professional actors and stage managers. The union has strict rules protecting its members and Riverside, like every other Equity theater, must abide by those rules.
The option to stretch out the season, so that casts don't overlap each other, should help mitigate the problem, Waxlax says, noting that this time, the curtain will rise in October and lower in June.
That could turn into a boon for both the theater and its patrons, she says, since stretching out the season will free up the stage and could give the theater the ability to extend sold-out shows.
For now, Waxlax says, the air at Riverside Theatre pops with excitement over its soon-to-start 50th anniversary season, one filled with variety and promise. It is also one that comes with an $8 million budget.
The season begins Oct. 25 on the Stark Stage with "Butterflies Are Free," which debuted on Broadway in 1969. The play is a romantic comedy about a blind young man who moves into an apartment on his own, his free-spirited neighbor and his overprotective mother. It's a smaller show, making it a better economic choice for Riverside since the bulk of its audience doesn't arrive until January, Cornell says.
Following is "Man of La Mancha," which debuted on Broadway in 1965. The musical was a groundbreaking one, ushering in what is called "concept musicals." It takes a look at life through the eyes of the dreamer Don Quixote and showcases the iconic song "To Dream the Impossible Dream."
The third Stark Stage show is a madcap farce called "A Comedy of Tenors," written by America's premiere writer of farce, Ken Ludwig. The story is set in 1930s Paris and pits four tenors, two wives and three girlfriends against each other.
"It's a very funny play," Cornell says.
Then, the theater continues its Golden-year celebration by reviving "42nd Street," which was its first big blockbuster musical and one that reset expectations for Riverside Theatre.
"It sold out for five weeks," Cornell recalls. "It kind of changed the whole trajectory of what we're doing here, spending close to $1 million for a big show."
Echoing Cornell's sentiments, Waxlax says the show is meaningful in that it's a "symbol of the change with Riverside."
The Stark Stage season closes with "Honky Tonk Angels," a music revue following three women who head to Nashville to sing country pop favorites.
"People who come to the Loop on the weekends, this is the kind of music they like," Waxlax says, referencing Riverside's free Live in the Loop outdoor concerts.
Patrons who crave good drama and smart comedy will no doubt be happy to hear about a couple of promising productions in the Waxlax Stage venue: "Bakersfield Mist" and "Oleanna."
"Bakersfield Mist" is a relatively new comedy/drama set in a trailer home in Bakersfield, Calif. The owner, Maude, claims to own a rare Jackson Pollock work that followed his celebrated "Lavender Mist" abstract expressionist painting. She has summoned Lionel, a world-class art expert, to validate the painting.
Cornell has had this play on his list for a long time. He was handed the script years before it debuted and has been trying to a mount a production of it for years. It was postponed twice due to COVID. The scenery for the production has been sitting in a trailer at the theater for two and a half years.
"I was in rehearsal for it and four days from starting tech (technical rehearsal with lights and sound), when I had to tell the cast (that) we had to shut down," Cornell says. "That was one of the worst days ever."
"Oleanna," a 1992 drama by David Mamet, was Cornell's first as a second stage production at Riverside, launching the series of intimate, second stage contemporary plays.
"I thought this being the anniversary, let's go back and visit it," Cornell says. "Oddly, it seems very timely right now."
The play concerns the power struggle between a university professor and his young female student, who accuses him of sexual harassment.
Although it has been hard for Cornell, Waxlax and their team of professional staffers, to maintain their spirit and enthusiasm, it's getting done, they say.
"More than anything, I want people to feel good," Cornell says. "We need more things to feel good about. Keep your fingers crossed for us."
Riverside Theatre is at 3250 Riverside Park Dr., Vero Beach. Call 772-231-6990 or visit RiversideTheatre.com.
Photos by Joshua Kodis