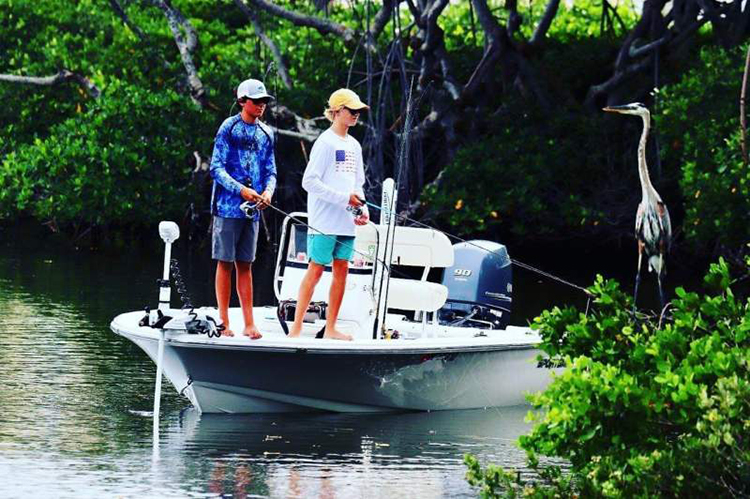 This weekend is going to be just too much fun. There's a clay shoot, a junior fishing tournament, a soapbox derby, a couple of solid rock 'n' roll shows and a couple comedies on stage.
You've got to get up early Saturday morning to participate in a clay shoot benefiting the Veterans Council of Indian River County. There will be clays, T-shirts, prizes, golf carts, breakfast and an awards lunch with dining by Wild Thyme Catering. The event is open to everyone, whether an absolute beginner or an avid shooter. The check-in is 8 a.m. Saturday, Sept. 24. That's followed by a mandatory safety briefing at 8:45 a.m. The scramble "shotgun" start begins 9 a.m. Lunch begins 12:30 p.m. Now remember, this is a fundraiser for the Veterans Council, so get ready to peel off some greenbacks. Single tickets are $150. If you just want lunch and to watch the awards ceremony, the cost is $30. The event is held at Vero Beach Clay Shooting Sports, 5925 82nd Ave. For more information, call 772-410-5820 or visit VeteransIRC.com and click onto "events."
The Lines in the Lagoon Junior Fishing Tournament is designed to not only be fun, but also to raise awareness of the fragile health of the Indian River Lagoon. It takes place Saturday, Sept. 24. Participation limited to children and teens in kindergarten through 12th grade. Lines in at 7 a.m. and out by 2 p.m. The tournament is catch and release only, with picture. All fishing must be done in the Indian River Lagoon by boat, from a dock, seawall or shore. There are more rules which you can find on LinesInTheLagoon.com under the "register" tab. Prizes will be awarded at a fun casual dinner at which you may wear flip-flops and shorts. The cost to register is $30. Registration includes a T-shirt, a goody bag and the awards dinner. Lines in the Lagoon Junior Fishing Tournament begins with Awards dinner runs 3:30 p.m. to 5:30 p.m. at the American Icon Brewery, 1133 19th Place, Vero Beach. The event also includes a raffle for a DragonFly Boatworks paddle board. You do not have to be present to win. For more information, call 772-538-6164 or visit LinesInTheLagoon.com.
Coastal Connections will have its 2nd Annual Recycle Derby Saturday afternoon at Walking Tree Brewery. The event is designed to raise awareness of the need to recycle. It was modeled after the Red Bull Soapbox Derby. Here, though, the life-sized cars will be built by teams using 75 percent recyclable materials. Amateur drivers will race the cars through five challenges along the race course. You can also expect to see team members dressed in silly costumes, so be sure you've got your camera handy. After the race, all the vehicles will, of course, be recycled. The event is a free. There will be vendors, food trucks, games and more. The 2nd Annual Recycle Derby runs 1 p.m. to 4 p.m. Saturday, Sept. 24, at Walking Tree Brewery is at 3209 Dodger Road, Vero Beach. Call 772-217-3502 or visit WalkingTreeBrewery.com or Coastal-Connections.org.
The back lot at Filthy's Cocktails and Beer is the place to enjoy a couple of free rock concerts this weekend. First up is the Restless Shots band. If you haven't heard this popular band, they've got some gray hair but that doesn't detract from their great guitar licks. It's obvious these guys have been around the rock 'n' roll block a few times and they've got the gritty delivery to prove it. They perform 7 p.m. to 11 p.m. Friday, Sept. 23. The next evening, the Glory Days cover band performs. They're decidedly more clean-cut, but they still know how to rock. They perform 7 p.m. to 11 p.m. Filthy's Cocktails and Beer is at 1238 16th St., Vero Beach. Call 772-794-9512 or visit Drink
AtFilthys.com.
The month-long 10 X Tenn Festival is winding down at the Vero Beach Theatre Guild. The films "Night of the Iguana" will be screened 7:30 p.m. Monday, Sept. 26, and "Suddenly Last Summer" will be screened 7:30 p.m. Tuesday, Sept. 27. Admission is free with a $5 purchase of beverages and/or popcorn from the patio bar. Two one-acts, "This Property is Condemned" and "The Case of the Crushed Petunias," will be presented 7:30 p.m. Thursday, Sept. 22. Tickets are $30. And "Cat on a Hot Tin Roof" will perform this weekend, 7:30 p.m. Friday and Saturday, Sept. 23-24, and 2 p.m. Saturday and Sunday, Sept. 24-25. Melbourne Civic Theatre's staged reading of "Summer and Smoke" begins 7:30 p.m. Wednesday, Sept. 28. Tickets are $30. The Vero Beach Theatre Guild is at 2020 San Juan Ave. Call 772-562-8300 or visit VeroBeachTheatreGuild.com.