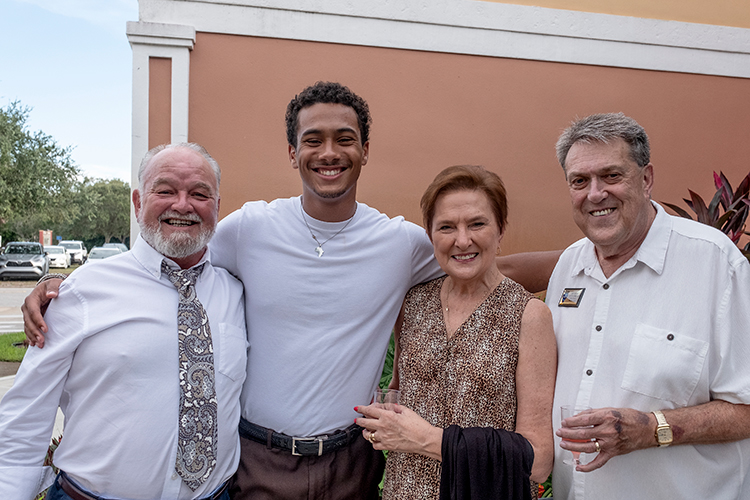 Fans of the late, great playwright Tennessee Williams descended on the Vero Beach Theatre Guild recently for a wine reception to kick off its monthlong 10 X Tenn Theatre Festival.
Attendees wandered in and out of the theater, sipping wine while perusing the various archival materials that are on loan from the Tennessee Williams Museum in Key West. Curator Dennis Beaver co-founded the museum 11 years ago with his partner, Bert Whitt, who was the original curator for the Harry S. Truman Little White House in Key West, Florida's only presidential museum.
Beaver later gave a lecture on the life and times of the famed author, which was followed by the documentary "Tennessee Williams' South."
Beaver said they started the museum in 2011 on what would have been Williams' 100th birthday, at the behest of the Key West Art & Historical Society, which they are now a part of, and it has grown larger every year.
"We now have, we believe, the largest collection of Tennessee Williams photos and memorabilia anywhere on permanent exhibition," said Beaver.
"We have hundreds of photographs and articles, magazines, plays, posters, everything you can imagine about his life. At first it was just Key West, but it just kept growing and growing. So now we cover everything he's ever done.
Beaver said Williams had owned a home in Key West for about 35 years, having visited there for five years prior to that.
"Almost everything was written partially in Key West. He'd write something and go off to New York or Rome or London and come back and write some more," said Beaver.
The playwright's first big hit was "The Glass Menagerie" in 1944, followed in 1948 by "A Streetcar Named Desire," which won him that year's Pulitzer Prize for Drama. Five years later he won another Pulitzer for "Cat on a Hot Tin Roof."
"So, two Pulitzers before the age of 50," said Beaver.
Williams also earned several New York Drama Critics Circle awards for his plays, and a Tony Award for best play in 1951 for "The Rose Tattoo."
In 1980, he was presented the Presidential Medal of Freedom by President Jimmy Carter for shaping the "history of modern American theater through plays which range from passionate tragedies to lyrical comedies."
Williams wrote more than 150 plays, most of which have been produced, and 17 of which were made into movies. Unfortunately, Beaver said, there are also many dozens that have not been produced; his estate hasn't released them.
"But there are still so many out there that most people have never even heard of," said Beaver, including the two one-act plays in the festival, "The Case of the Crushed Petunias" and "This Property is Condemned."
Beaver said he became interested in all things Tennessee Williams having seen him several times in Key West, but never got to know him.
"So I've always regretted that. You should take that opportunity when you see somebody you want to know; just go say hi," Beaver advises.
The Vero Beach Theatre Guild will retain the exhibit at least until the end of the festival. Beaver says their museum is located at 513 Truman Ave., adding, "Truman is better known up here as U.S. 1, so if you start driving South, you'll get to us."
The 10 X Tenn Festival was the brainchild of Jon Putzke, VBTG artistic director. "We wanted to expand the 'Cat on a Hot Tin Roof' selection to make it an all-month festival," said Putzke.
"Every single night of the week for the month of September, there will be something going on that is either for or by Tennessee Williams. It all ties together."
Other performances through the end of 2022: Oct. 21-23 and Oct. 28-30 stage readings of Yasmina Reza's "Art," winner of the 1998 Tony Award for Best Play; Nov. 4-27 "Musical Chairs," a musical comedy with "at least six showstoppers"; Dec. 9-11 and Dec. 16-18 stage readings of "Love, Loss & What I Wore," featuring "monologues and ensemble pieces about women, clothes and memory."
For a full schedule of 10 X Tenn events and 2022-23 Season performances, visit VeroBeachTheatreGuild.com.
Photos by Joshua Kodis