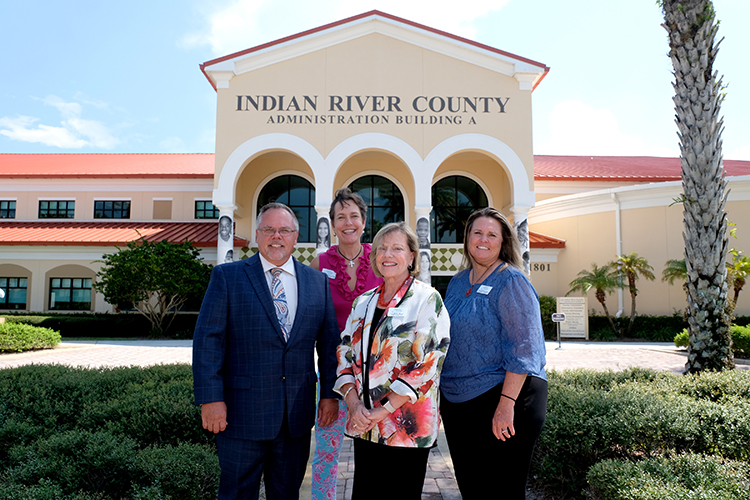 Tykes & Teens, a nonprofit founded by Jeff Shearer in Martin County, has expanded its territory over the past 26 years to provide mental health care to children and families in St. Lucie, Okeechobee and Indian River counties as well.
"As a psychotherapist, Shearer was quite a visionary in the field of infant and childhood mental health services," said Linda Kloss, Tykes & Teens interim executive director, noting that Shearer had retired in 2020.
Samantha Messina, development director, added that Shearer's goal was to "strengthen local families and make sure that all children had access to high-quality counseling and mental-health services, regardless of their financial status."
Shearer founded the organization after discovering that, in many cases, children were not receiving needed therapy because their parents did not have insurance coverage and could not afford private pay.
Today, Messina explained, clients without private insurance can receive services on a sliding scale, with costs offset by such sources such as Medicaid, Florida Department of Children and Families, other government programs, private foundations and donations.
Through prevention, education and treatment, Tykes & Teens prioritizes children's mental health at home, at school, and in the community. They currently offer two programs to Indian River County residents: Infant Mental Health and Mental Health Consultation.
Kloss explained that the Infant Mental Health program, for children ages 0 to 4, provides individual counseling and support to parents and families in the home environment.
According to their current records, 57 of the 251 children served through that program live in Indian River County.
"It's shocking that there would be such a thing as infant mental health, but we have to remember that the basis for all of our counseling is trauma support," said Messina.
According to a report from the Substance Abuse and Mental Health Services Administration, 26 percent of all children will experience or witness a traumatic event before age 4. Messina noted that trauma at such an early age can include such situations as children being removed from their parents and placed into foster care, the loss of a parent, abuse and other tragedies.
These types of extreme trauma situations are difficult for the little ones to process and can impact the very young in extraordinary ways. To address these issues, specially certified counselors work with the children and their families.
Through the program, which is based on a nationally utilized, evidence-based treatment model called Child Parent Psychotherapy, caregivers learn from an Infant Mental Health therapist how to develop positive attachment relationships between the infants and themselves.
"We support and strengthen the relationship between the really young child and the caregiver, whether it's a parent or grandparent or a foster family," Messina explained.
Their Mental Health Consultation program is focused on the personnel at early childhood learning and daycare centers, said Kloss.
They utilize a prevention-based approach that pairs a mental health consultant with early learning educators and care providers who work with infants and young children under 5 years of age, to help them improve the children's social and emotional development. The goal is to reduce the number of children being suspended or expelled from early childhood care centers and, potentially, classrooms later on, due to behavioral issues.
"Rather than working one-on-one with a child, the program is designed to help the staff in the early learning center be better able to deal with emotional behavioral problems. We support the staff so that they can do a better job in dealing with behavioral issues," said Kloss.
Based on a training program called the Trauma Informed Care Series, roughly 100 staff members at six early childhood centers in Indian River County have been trained how to recognize signs and how to de-escalate problems.
They have also been taught how to help children better handle their emotions and deflect behavioral problems.
As a result of the training, which has impacted some 440 children, Tykes & Teens has noted a 17 percent reduction in the number of children experiencing challenging behavior at those collaborative childcare sites.
"A child with more serious behavioral issues could be referred for one-on-one counseling through Infant Mental Health. Or, if the behavior can be controlled in the classroom environment, they can work with the staff to do so," Kloss explained.
Providing an example, Kloss said one particular 3-year-old child had been passed from daycare to daycare.
At age 4, the child was on the verge of being expelled from yet another childcare center for aggressive, disruptive and defiant behavior.
However, after working with a Tykes & Teens therapist, the child has shown immense growth and is no longer being considered for expulsion.
Research conducted by the Harvard University Center on the Developing Child indicates that prolonged trauma without appropriate support can disrupt a child's normal development.
That, in turn, can lead to impairments in the brain, and in their social and emotional development. Left untreated, the child is likely to develop inappropriate behaviors.
"Having no professional intervention sets up a child to be a behavioral problem throughout life," said Kloss. She noted that early interaction is the key to curtailing inappropriate behavior before it becomes ingrained.
"During the pandemic, we had a 300 percent increase in the demand for services at Tykes & Teens. We had a 100 percent increase in high-risk clients," said Messina.
She added that at one point, they had a waitlist of 300 children who needed to be seen across the four-county area they serve. There is still a waitlist among infant mental health clients.
"This is a specialty therapy area, and the cases are more complex," Kloss explained.
"During the last fiscal year, we served about 1,500 clients through our therapy services, but we've seen over 10,000 through our prevention services," said Messina.
Kloss said that Tykes & Teens is hoping to increase services in Indian River County by offering outpatient services to older children.
"We have a proposal in to the Indian River Hospital District to open an outpatient services center for ages 5 to 17," said Kloss.
She said that if the funding comes through, Tykes & Teens will begin offering that service on Oct. 1.
In the meantime, to provide outpatient mental health therapy to older children and teens, Kloss said they have added telehealth to their toolbox.
"It's not right for every child, but it can be a good way of keeping in touch and moving treatment plans along," she explained. "It's one of those things that will always be a vital adjunct to treatment now, because it's an easy way to stay in touch with people."
For more information, visit tykesandteens.org.
Photos by Joshua Kodis