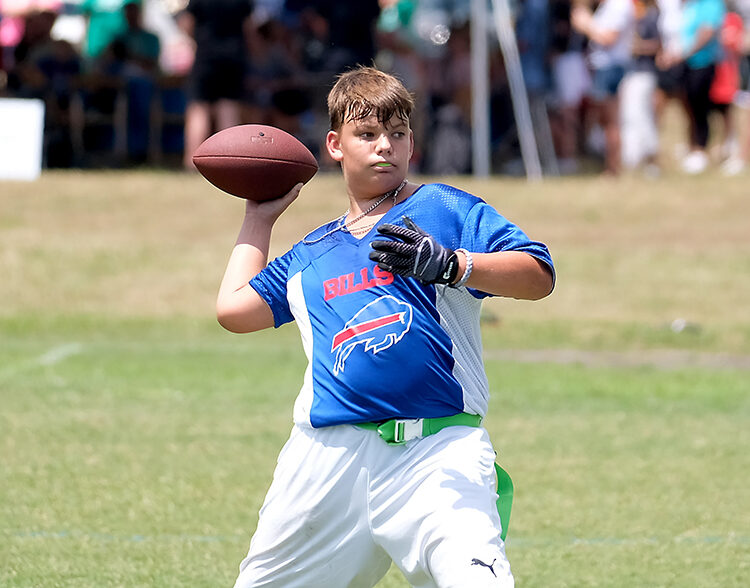 The Education Foundation of Indian River County recently hosted a Kick-Off Party to announce plans for a new Community Complex at Jimmy Graves Fields, located across the street from the Vero Beach High School. The Graves family donated the property to the School District of Indian River County in memory of Jimmy Graves, who died at age 15 in a 2016 boating accident.
The Education Foundation is supporting the school district's fundraising efforts to develop the facility for the entire community.
"We're excited to partner with the school district to serve our students, teachers and families," said Heidi Leone, Education Foundation executive director.
She thanked the Graves family "for not only giving those that knew Jimmy a place to remember him and honor him, but also giving the community an opportunity to come together for years and years."
"We want to use every single inch of this land for our community," said School Superintendent David Moore, referring to the site as "the heartbeat of Vero Beach."
The 11.5-acre property will house the Jimmy Graves Sports Complex, a Student Entrepreneurial and Community Collaboratory, a Historic Vero Walking Trail, an Inclusive Playground and a Community Amphitheater.
"As we approach the sixth anniversary of his death, I think he'd be very proud to come here today and see what's happening," said Joe Graves of his son.
"One of the big lessons I learned from my son after his passing was that the real meaning in life isn't what we do for ourselves, but how we impact others. That's what people remember, and that's the legacy that we leave. Jimmy's impact on others, on his schoolmates, on his teachers, on his coaches and on adults was profound. That really was the inspiration for what you see here today."
Graves credited School Board member Brian Barefoot for devising a visionary plan to make Graves' dream a reality, and Moore's leadership abilities for making it happen.
Moore said that $2.8 million of the projected $7.38 million cost had already been raised before the campaign officially kicked off.
The Jimmy Graves Sports Complex will feature an eight-lane regulation track, named in honor of Coach Bill Wilson, with event stations and a field for lacrosse/soccer.
The half-mile Historic Vero Walking Trail will feature facts about historical events that helped shape Vero Beach.
"The edu-walk will have spaces along the way in which you can learn about the history of Vero Beach. Our students will do that research and identify what innovative things we all need to learn," said Moore.
A 5,000-square-foot Inclusive Playground will feature an ADA design that encourages play, discovery and exploration in a sensory-rich environment.
The Student Entrepreneurial Center will provide space for students to market, merchandise and sell products, such as school spirit wear and Vero Bean coffee, and a student art gallery.
They plan for it to be a hub for collaboration, innovation, professional development and community partnerships.
A large Community Amphitheater, with state-of-the-art mobile sound capabilities and a portable projection screen, is being planned which the community and nonprofits can rent to host outdoor events and concerts.
Kickoff attendees enjoyed refreshments, visited nonprofit informational booths, and took the SDIRC's Anti-Bullying Pledge.
Citing the importance of eliminating bullying in schools and across the county, Moore said, "It takes everyone in the county in order to do so. When a student is bullied, and it is not addressed in real-time, there are long-term impacts, not only on that particular child but possibly on others."
"We are asking our community members and our families to sign because we want our students to feel valued, safe and accepted in our schools," added Pam Dampier, SDIRC assistant superintendent.
"Overall, our priority is student achievement, but we want to make sure our students have a positive learning environment to do that in."
The Education Foundation presented 11 local nonprofits with donations, recognizing the work they do to enrich the lives of students in the county: Fellsmere Boys and Girls Club, Indian River Lacrosse Association, Indian River Soccer Academy, Riverside Theatre Children's Programs, Ballet Vero Beach, Homeless Children's Foundation, Willis Sports Association, LifeBuilders of the Treasure Coast, Vero Beach Foundation Little Indian's Football, Sebastian Sharks Youth Football and the Gifford Youth Orchestra.
The Education Foundation funds programs and services to help local students reach their full potential and facilitates the Indian River Regional Science & Engineering Fair.
For more information, visit edfoundationirc.org.
Photos by Joshua Kodis