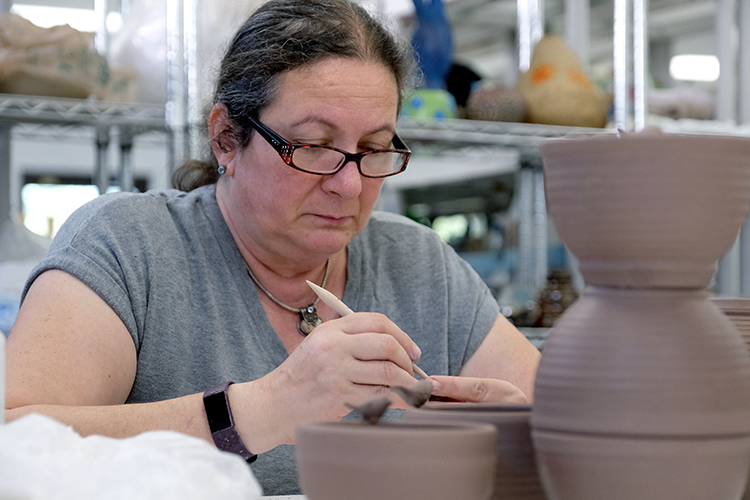 Potters never really need an excuse to throw mud, but when the call goes out each year to use their skills to support the Samaritan Center's annual Soup Bowl fundraiser, they respond with all hands on deck.
Overseen once again by Indian River Clay, the diligently working potters are well on the way toward completing their goal of producing 1,200 wheel-thrown and hand-built soup bowls. The distinctly unique works of art will be available for purchase on Thursday, Nov. 3, during the 30th Annual Soup Bowl, held again this year from 9 a.m. to 7 p.m. at the Heritage Center.
"Local potters have been doing this for more than 28 years," said Maria Sparsis, Indian River Clay co-founder. "It's a good cause. It brings the community together, and it's fun."
Explaining its draw for the potters, Sparsis explains: "Through the years, you get to meet a whole lot of potters, and some stay with you and some move on. Some stop doing clay. Some build their own studios and move into those. This is the one opportunity every year for all of us to get together and play in the mud together."
Indian River Clay held open studio hours during August for potters to make and trim bowls, with September dates reserved for glazing the creations.
"It's nice to have a bunch of people in one place working toward a common cause. And soup is a humble meal, accessible to the entire community. Not everybody can buy a $200 ticket to a fundraising event, but everybody can come out and buy a soup bowl. Everybody can pitch in to support a homeless family," Sparsis added.
The Samaritan Center, a program of Catholic Charities, provides transitional housing for homeless families with dependent children in Indian River County. In addition to shelter, it assists them to prepare to live independently through educational programs, counseling and support.
Amidst the pandemic, Soup Bowl organizers had to amend what had been a multi-location event, and this year it will again be held at the Heritage Center, said Renee Bireley, Samaritan Center development director.
Somewhat serendipitously, the Heritage Center was among the first locations to host the Soup Bowl 30 years ago.
"What is more community than the Heritage Center?" said Bireley.
The format change to have soup bowl sales at a single location the past two years turned out to be beneficial in some respects, she added.
"We were actually very successful and thrilled that the community came out and embraced the Soup Bowl. It really was wonderful having them all together because you could see all the different bowls. People bought multitudes because they could see them together," said Bireley, recalling that one lady bought 12 to put orchids in for all of her friends.
This year will see the return of soup purchases, but in a different fashion from years past. At the Heritage Center, you will be able to purchase cold, soup-to-go by the quart, donated by restaurants and country clubs. The donation requested is $15 for a quart container of soup-to-go.
Additionally, some local churches and businesses will return to making their own soups to sell at their locations, but the handmade bowls will only be sold at the Heritage Center. The requested donation for each soup bowl is $15.
During the pandemic, many of those locations thought outside the 'soup bowl' – hosting, for example, a Reverse Soup Bowl, where Bireley said parishioners were asked to donate cans of soup in a drive-thru version that were donated to the Salvation Army.
The nonprofit clay studio, founded in 2018 to promote the learning and development of pottery skills, has more than 60 members and 70 others waiting to get in. Members are working to pay off the mortgage and put money aside for another building so that membership can be expanded.
"There is more demand than what we can meet, and we need more space," said Sparsis, adding that they are adding new classes all the time.
For more information about the Samaritan Center, visit ccdpb.org. For more information about Indian River Clay, visit indianriverclay.org.
Photos by Joshua Kodis