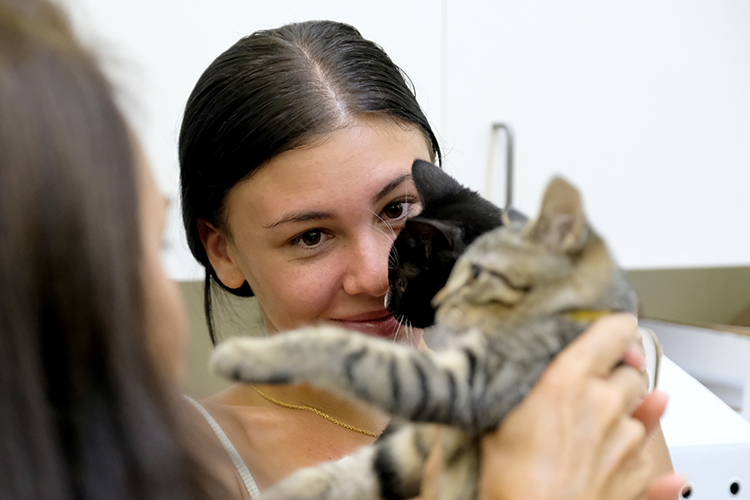 A long line of people waited patiently outside of the Humane Society of Vero Beach and Indian County, hoping to find and take home a new furry family member during National Clear the Shelters Day.
By the end of the day, 80 animals had found their fur-ever home: 38 dogs, 40 cats and two pigs. Those numbers brought the total number of adoptions during the period from Aug. 1 to Aug. 28 to 236 – 101 dogs, 127 cats and eight other animals, including those oinkers.
"This is the best day ever. Look at that crowd. We've had four adoptions right off the bat," said Kate Meghji, HSVBIRC CEO, at the start of the event.
"This is a national event that was started by NBC and Telemundo in 2015 as an endeavor to help shelters clear out in the summer when they're most overcrowded. And it has turned into this spectacular success. It's a celebration."
Although shelters, unfortunately, always have a never-ending supply of animals available for adoption, Meghji says there is something about the collective response when shelters say, 'We need help.'
"It prompts people who are maybe thinking about adopting, to say, 'We are ready and want to support this awesome initiative on this amazing day,'" said Meghji. "I mean, look at this, you can feel the energy."
Numerous staff and volunteers, wearing T-shirts that said, 'Saving animals is kind of my thing,' efficiently managed the orderly crowd, which had been separated into dog lines and cat lines.
Those seeking kittens or older cats were brought to those rooms, and if any of the purring felines melted their hearts, volunteers processed the paperwork on the spot.
Many of those pursuing canines had already viewed the available puppies and dogs online and, once checked in, were escorted back to meet their future companions. Others, who wanted to browse, were taken back with handlers to meet the dogs. Once paperwork was processed, there was an area for family photographs.
Among the most sought-after were some 10 adorable puppies, all of which found homes.
One of those lucky pups was 3-month-old mixed breed Delaney, who went home with Cassandra and Charles Mergott and their daughter Shaylee, 18 months old, who was completely enamored of the new family member.
Totally adorable, it was anyone's guess as to the puppy's heritage, but Charles said they were told the mother was a shepherd and that a husky and boxer were likely part of the mix.
"We saw them online and we decided we wanted to come look at the puppies," said Cassandra, noting that they had been among the first people there.
Pointing to her husband, she added, "His old dog's name was Delaney, so it was just kind of fate because her name is Delaney."
Over in the kitten room, 4-year-old Isabella was hoping to convince her parents Brittaney and Alexander Colon-Figueroa to adopt a sweet little black and white 'tuxedo cat,' who sported white on the tip of his nose and paws and some impressive white whiskers.
The kitten was clearly looking to make an impression as he lovingly licked Isabella's hand.
"This is her first time around cats, but she loves cats," said Brittaney, noting that her mother in Michigan has one that Isabella sees when they Facetime. "Bella sees the cat all the time and she's been begging us, so we thought we'd come today."
To anyone unable to adopt that day, Meghji advised, "There will be more animals tomorrow, next week and the week after that. So the problem is there. We'll have dogs and cats 365 days a year."
The HSVBIRC had waived adoption fees for the day and, as with all animals they adopt out, they had been spayed or neutered, were up to date with vaccines, and were microchipped. The nonprofit is "dedicated to helping and protecting the animals of Indian River County and to assisting owners to keep pets in their homes." In addition to adoptions the HSVBIRC operates a wellness clinic and has thrift stores in Vero Beach and Sebastian.
For more information, visit hsvb.org or call 772-388-3331.
Photos by Joshua Kodis